Caribbean countries hold for fifth consecutive time OAS Permanent Council chair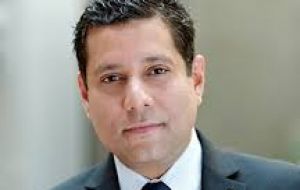 The Permanent Representative of Trinidad and Tobago to the Organization of American States (OAS), Neil Parsan DVM, MBA, CACM, RFC, was inaugurated on Thursday as Chair of the Permanent Council of the hemispheric institution, a position he will hold for the next three months and in which he follows the Ambassador of Suriname, Niermala Badrising.
Upon taking office, Ambassador Parsan expressed the honor he felt at leading the Permanent Council and reiterated the "commitment of Trinidad and Tobago to the values and principles of the OAS," which he promised to defend during his term.
The diplomat from Trinidad and Tobago recalled that with the new mandate, the countries of the Caribbean countries will have held "for the fifth consecutive time the Chair of the Permanent Council" and recalled that during this year the Chair has been held by Saint Kitts and Nevis, Saint Lucia, Saint Vincent and the Grenadines, Suriname and now Trinidad and Tobago. "CARICOM is very fortunate to have these challenges," he added.
Ambassador Parsan also expressed the will of Trinidad and Tobago to collaborate with the OAS General Secretariat and member states to comply with the mandates of the hemispheric institution during his term at the head of the Council.
For her part, the Permanent Representative of Suriname and outgoing Chair of the Council, Niermala Badrising, said that during her tenure she presided over the latter part of the process of electing the new authorities of the OAS, which ended on March 18 with the election of the next OAS Secretary General and the next Assistant Secretary General."I have to admit that the last three months were the most exciting of my stay at the OAS," said the Surinamese diplomat.
Ambassador Badrising expressed her gratitude for the support received during her term "both from the General Secretariat and from member countries" and also noted her satisfaction in transferring the Chair to another member state of the Caribbean Community (CARICOM). "I am proud to transfer the mandate to another Caribbean state," she added, before symbolically delivering the gavel used to chair meetings of the Council to her successor, Ambassador Parsan.
The event was held at OAS headquarters in Washington, DC, and was attended by the OAS Secretary General, José Miguel Insulza; the Assistant Secretary General Albert Ramdin; and the Permanent Representatives of several member countries.