Argentine farmers defy Cristina Fernandez with 'silo-bags' to hoard soybeans
Tuesday, April 7th 2015 - 09:15 UTC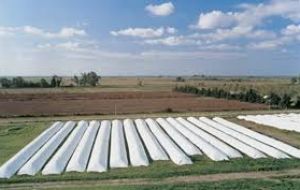 Argentine farmers have stockpiled more than twice as many soybeans this year than in 2014 defying a government desperate to increase export tax revenue needed to finance rising state spending ahead of the October presidential election.

Growers say the increase in soybean reserves to 7.4 million tons from 3.4 million comes from a 12% larger harvest. With another record crop expected this year, farmers are holding onto beans as a hedge against high inflation and low world oilseed prices.

The government of president Cristina Fernandez, which was unable to raise cash in the global bond market after defaulting last year, is pressuring soybean growers to sell so that it can collect the 35% tax it slaps on soybean exports. They are required under a new rule to report each purchase of "silo bag" storage units. Those found to be piling up soy are disqualified from receiving state loans.

"The government is establishing norms to pressure farmers into selling faster, but considering the uncertainties that they are facing, they will not accelerate their sales, which are already brisk," said Ernesto Ambrosetti, chief economist at the Argentine Rural Society (SRA), which represents big farmers.

Based on estimates from the SRA and local grains exchanges the 7.4 million tons of soybeans held in reserve as of the end of last month accounted for about 14% of the 52 million tons harvested in the 2013-14 crop year. They had stockpiled 3.4 million tons at the same time last year, which was 7.1% of a 48 million ton crop.

World soy prices are hovering at 354 dollars per ton compared to $527 a year ago, and farmers are stockpiling to wait out the bear market.

Inventories may rise this year if world prices do not. Forecasts for the upcoming soy harvest are 56 to 60 million tons, blowing past the 53.4 million ton record that the government reported for last season.

Soy can be stored for up to three years in the oblong plastic silo bags that have come to dot the Pampas grain belt. They are 60 to 75 meters long and hold up to 250 tons. About 300,000 of them are sold a year in Argentina at prices starting at 480 dollars per bag.

Sales rose this year, mostly because of a bigger harvest, according to silo bag manufacturer IpesaSilo, which has about 70% of the Argentine market.

The government also wants to see more soy sales because growers are required to convert their exports in U.S. dollars into pesos. This feeds central bank reserves that are used to control the devaluation of the currency as the economy slumps under the weight of heavy trade controls.

President Cristina Fernandez is barred from seeking a third term in October's election. Growers hope for less interventionist policies after the next president is seated in December. Meanwhile, they say the anti-hoarding rules will not keep them from storing beans.