Bachelet denies any idea of stepping down, because of her family's corruption scandal
Wednesday, April 8th 2015 - 17:11 UTC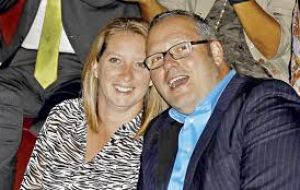 "No way, I've never thought of resigning or stepping down" said emphatically Chilean president Michelle Bachelet on Wednesday, following a barrage of media rumors which echoed in the social networks during Holy Week, which in South America in a long weekend holiday.
"I don't even know the constitutional procedure for such a situation" added categorically the Chilean leader during a media round with the foreign press to address the corruption cases, including one involving her family, and which have caused a serious political and conficence situation in the country, once a 'transparency' showcase for the region.
In the so called Caval case, her daughter in law, Natalia Compagnon, married to Bachelet's son Sebastián Dávalos, has been in the spotlight over influence peddling and access to privileged information in real estate deals which netted her several million dollars. The case also involves one of the richest families of Chile and their bank which loaned several million dollars to Mrs. Dávalos, with virtually no collateral for a land purchase deal, precisely on the day Bachelet won the run off last year and was confirmed for a second four year period.
As a consequence Bachelet's approval rating is at its lowest level ever, but she said that she doesn't care about her popularity because she's focused on improving Chile's well-being and pushing forward needed reforms.
"Besides this can be turned into an opportunity for change", said Bachelet whose personal approval rating has fallen eight percentage points in less than a month to 31%. That's the lowest for her current administration and her 2006-2010 presidency.
Trust in politicians has also eroded by a campaign financing scandal involving a prominent company and right-wing politicians.