Uruguayan president meets Obama; UNHCR will provide Guantanamo detainees with homes
Saturday, April 11th 2015 - 05:38 UTC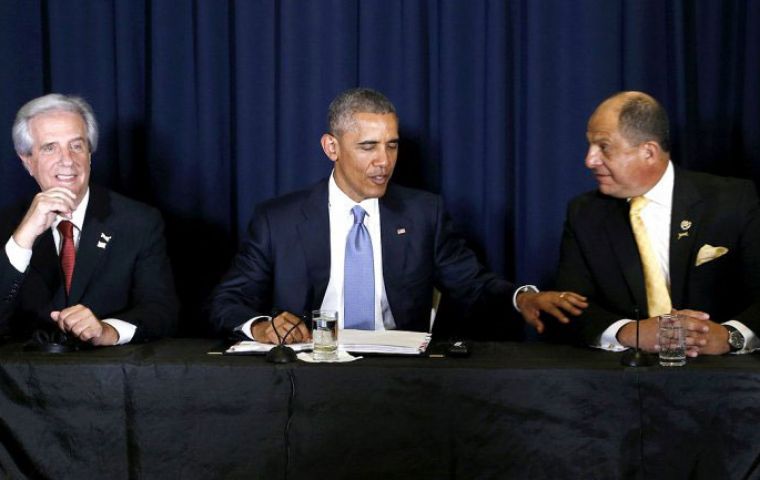 The United Nations refugee agency, UNHCR, will provide homes to six former detainees of the US military prison in Guantanamo who have struggled to resettle in Uruguay, the country`s President said on Friday.
"Each one of them will have a home," President Tabare Vazquez told Uruguayan media after meeting US President Barack Obama and other leaders at the Summit of the Americas in Panama.
The Office of the United Nations High Commissioner for Refugees, he said in televised remarks, has "the necessary resources to attend to the needs of the (former) prisoners."
Before his meeting with Obama, Vazquez said he would ask Washington for help to care for the six men, who arrived in Uruguay late last year with the status of refugees.
Uruguay took in the six in December to help Obama fulfill his long-delayed promise to close the prison, located in a US naval base in Cuba, which was set up to hold terror suspects after the 11 September 2001 attacks.
The former prisoners -- four Syrians, a Palestinian and a Tunisian -- arrived in Uruguay on December 6 after more than a decade in detention. They were never charged or tried.
Since arriving in Uruguay, which promised they would have the same rights as any other resident, they have been taking Spanish classes and living in hotel rooms and a house provided by a local labor union. But officials have expressed concern that they are having trouble adapting and does not show much work habits.
Vazquez also anticipated there would be positive news regarding the ongoing litigation with Philip Morris, which is suing the country for an aggressive anti-tobacco campaign that allegedly breaches an investment agreement.
The meeting of Vazquez with Obama which also included Costa Rica president Luis Guillermo Solís, took place at closed doors gathering with social activists and civil leaders from several countries including members of the Cuban opposition, Manuel Cuesta Morúa and Laritza Diservent, according to a release from the White House media office.
Vazquez also mentioned that Uruguay rejects Washington's decision to declare Venezuela "a threat to US national security", the controversial issue which the president revealed impeded the foreign ministers to reach a consensus on the final joint declaration of the summit that was to be signed on Saturday by the heads of state and government.
Earlier in the day the Uruguayan delegation participated at a forum on "Productive integration and inclusive development", and displayed the advantages for investment in the country. For the occasion Vazquez was accompanied by Foreign minister Rodolfo Nin Novoa and the head of the Budget and Planning Office, Alvaro García.
The group later held a private meeting with the US Chamber of Commerce with a similar presentation on Uruguay's opportunities as a global services platform and for investments.
"We're very satisfied with the meeting because there was a clear interest of investors in coming to Uruguay to work in priority areas", said President Vazquez .