Castro calls for a 'civilized relationship'; apologizes to Obama and condemns ten previous US presidents
Sunday, April 12th 2015 - 08:46 UTC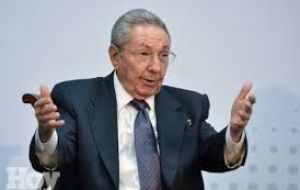 Cuban President Raul Castro was received with a standing ovation as he readied to address the VII Summit of the Americas, held in Panama City, in a historic presentation. The Caribbean leader stressed the importance of the rapprochement with the United States but questioned the US policy towards Venezuela.
"It's about time I spoke in the Summit on behalf of Cuba," Castro said, causing a loud cheer from state representatives inside the Atlapa Convention Center.
"And as you owe me six summits… six by eight [which were the minutes granted for each President] equals 48. So I should be allowed to speak for 48 minutes," he added jokingly.
Castro, who met with US President Barak Obama before the conference and shook hands in a symbolically charged gesture, praised the rapprochement with the United States expressing his will to move forward with a "respectful dialogue between the two countries."
The Cuban leader said his goal is to develop "a civilized relationship between our two Nations, taking into account our profound differences."
Castro thanked Obama for announcing he will ask the US Congress to work to put an end to the Cuban embargo, and apologized for his strong questioning of the policy.
"I apologize to President Obama for having expressed myself like that. I apologize because Obama does not have responsibility for that policy; the 10 presidents before him do. Everyone owes us, except for President Obama," Castro said.
He added he appreciated the US President's decision to take Cuba out of the "terrorist list": "We should have never been on that list," he said, criticizing former US President Ronald Reagan.
Castro then questioned the US decision to include Venezuela as a "national threat", like Argentine President Cristina Fernandez and Ecuador President Rafael Correa did before in the Summit.