Controversy over Argentine ambassador accounts, dismissed by US bank
Sunday, April 12th 2015 - 10:29 UTC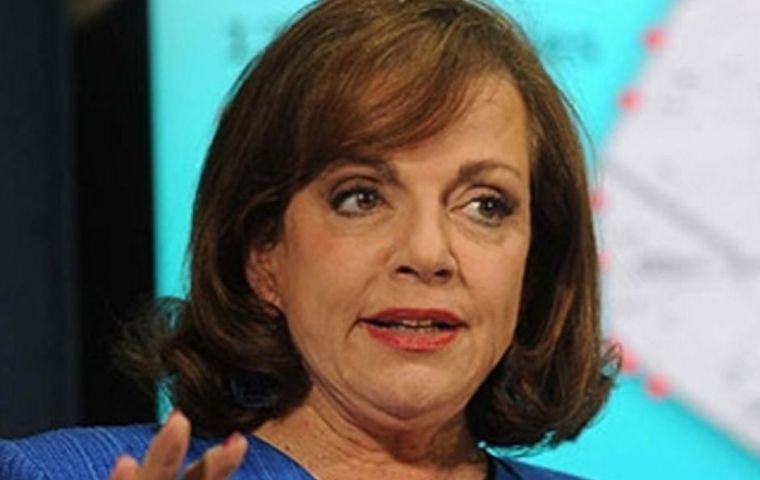 Argentine ambassador to the Organization of American States (OAS) Nilda Garre denied having accounts neither in the CNB Bank nor in the Felton Bank, saying the US-based entity had written proof that there were no accounts under her name there.
"Following the ridiculous accusations over alleged bank accounts under my name and the name of others with millionaire amounts of money, on March 31 I showed up at the CNB Bank in Delaware in the United States to be certified if I have had at some point some sort of account in that institution or in the Felton Bank, entity that merged (with the CNB)," the ambassador explained in statements quoted on Saturday by the Pagina 12 pro government daily.
"Luckily, the lies of the evil that with the worst objectives affect the honor of people fall apart," the ex security minister assured questioning media reports that had accused her and the son of President Cristina Fernandez de Kirchner, Maximo Kirchner, of having bank accounts abroad.
"Myths about the seriousness of some media and of a certain investigation journalist, who some of his colleagues even warned about the precariousness of the information he was releasing, also fall apart," Garre insisted referring to the Clarín newspaper that first published the versions and to Daniel Santoro, the journalist who signed the article.
"Besides, the perverse objectives of those who distort judicial actions, issuing legal reports after they read the newspapers, closing the circuit of infamy and irresponsibility, ends.