Obama announces Brazilian president Rousseff visit to Washington on June 30
Sunday, April 12th 2015 - 08:06 UTC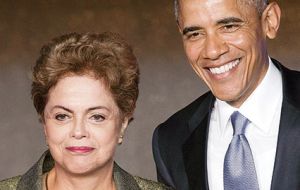 US President Barack Obama announced that Brazilian counterpart Dilma Rousseff will visit Washington on June 30, almost two years after she cancelled a trip over a US spying scandal. Obama made the announcement during a bilateral meeting with Rousseff, on the sidelines of the Summit of the Americas in Panama City.
The invitation was made by US Vice-President Joe Biden in a phone call last month. The populist Brazilian leader was originally scheduled to visit Washington in October 2013.
But she called off the trip after reports that US intelligence agencies spied on the telephone calls of millions of Brazilians, including Rousseff herself and her advisors.
Obama dispatched Biden to Brazil several times to smooth things over, and the vice president attended Rousseff's inauguration earlier this year following her re-election. Biden re-extended the invitation to Rousseff in a phone call on March 13.
Rousseff's popularity at home has tumbled because of a corruption scandal at state-run oil company Petrobras and a weak economy that has fallen into a slump after a boom in the previous decade.
U.S. officials believe a strong demonstration of support for Brazil will eventually unlock greater access to its 2.2 trillion economy, Latin America's biggest.