Pope Francis appeals to Americas Summit for better distribution of riches
Sunday, April 12th 2015 - 10:48 UTC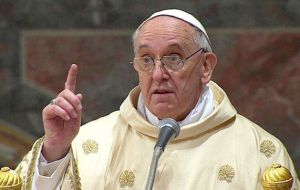 In a message addressed to the President of Panama Juan Carlos Varela, Pope Francis urged leaders attending the OAS Americas' Summit to strengthen efforts against inequality which he considered a "source for conflicts."
"Inequality, the unfair distribution of riches and resources, is source for conflicts and violence among peoples, because it involves the progress of some to be built on the necessary sacrifice of others and, to live with dignity, they have to fight against the rest," the Argentine pontiff said in a letter sent on Friday to Mr. Varela and released on Saturday by the Vatican.
"In emerging economies, a big part of the population has not benefited from the general economic progress; a gap bigger and bigger between the rich and the poor has been opened," Francis said.
In a message that appears in tune with the slogan of the Panama meeting – "Prosperity with equity: the challenge of the cooperation in the Americas"-, the pope called for "direct actions" to help those in need.
"It is not enough to wait for the poor to collect the crumbs that fall from the hands of the rich… Direct actions are needed to help the disadvantaged."
Renewing his defense of immigrants' rights, Francis affirmed "the lack of cooperation between States leaves many people outside the law and without the possibility of making their rights matter."
The 78-year-old religious leader questioned the "offensive and outrageous differences" in the heart of cities and called for an "authentic" stance against racism, xenophobia and intolerance.
No human being, he affirmed, must be left without "basic goods" such as land, work, housing and "public services" such as health, education, security and the protection of the environment.