Cuban-American Senator Rubio launches 2016 campaign for the White House
Tuesday, April 14th 2015 - 11:29 UTC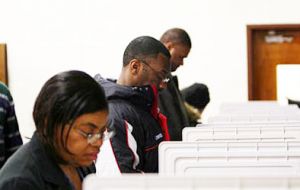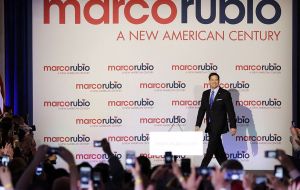 US Florida Republican Senator Marco Rubio launched his presidential campaign at a rally on Monday in Miami, calling for a new era of American leadership that is not "stuck in the 20th century."
The conservative 43-year-old first-term lawmaker, son of poor immigrants from Cuba, presented the 2016 presidential election as "a generational choice" -- a clear jab at his more senior rivals, notably the newly-announced Democratic candidate Hillary Clinton and his fellow Republican and potential adversary Jeb Bush.
"I have heard some suggest that I should step aside and wait my turn. But I cannot, because I believe our very identity as an exceptional nation is at stake, and I can make a difference as president."
Americans have "the opportunity to author the greatest chapter yet in the amazing story of America," he said. "We can't do that by going back to the leaders and ideas of the past. We must change the decisions we are making by changing the people who are making them."
While not mentioning former secretary of state Clinton by name, Rubio made clear he was targeting her as one of the politicians of the past. "The time has come for our generation to lead the way toward a new American century," he said.
"Just yesterday, a leader from yesterday began a campaign for president by promising to take us back to yesterday," Rubio added. "But yesterday is over, and we are never going back."
A rising star in the Republican party, Rubio is a rare package for US conservatives. He is English-Spanish bilingual, hawkish on foreign policy, and supported an immigration reform bill that would have legalized millions of undocumented migrants.
Rubio hopes to connect with the young, Hispanic and African-American voters that Republicans have struggled to reach in previous elections.
He joins two other Republicans who have already declared their candidacy: Texas Senator Ted Cruz and Libertarian-leaning Rand Paul from Kentucky.
Playing to his "American Dream" family narrative, Rubio held the launch event at Miami's Freedom Tower, a landmark known as the entry point for processing Cuban refugees coming to the United States.
Rubio is the son of a bartender and a housemaid from Cuba who moved to Miami in 1959 to escape poverty. Now a junior senator from Florida, he grew up in Miami's Cuban-American community, and in Las Vegas.