Brazil's economy expected to contract 1% as challenges remain unaddressed, says IMF report
Wednesday, April 15th 2015 - 07:46 UTC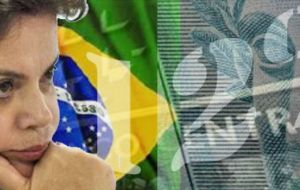 The International Monetary Fund expects Brazil's economy to contract by one percent this year, it said Tuesday, slashing its previous forecast of 0.3% growth. The world's seventh-largest economy is being hit by inflation, private-sector doldrums and a massive corruption scandal at state oil giant Petrobras, the IMF said in its latest forecast.
"Private sector sentiment remains stubbornly weak because of unaddressed competitiveness challenges, the risk of near-term electricity and water rationing, and the fallout from the Petrobras investigation," said the Fund in its quarterly projections for the world economy.
"Greater-than-expected need for fiscal tightening also plays a role in the downward revisions."
That ratchets the pessimism up a notch from the IMF's previous two forecasts: In January, it predicted Latin America's leading economy would grow 0.3% in 2015, and in October it predicted growth of 1.4%.
The outlook is slightly better for 2016, when the IMF predicts one-percent growth, down from 1.5% in the previous forecast.
The IMF said it expects inflation to come in above the government's target ceiling of 6.5% for the year. In March the annual inflation rate stood at 8.13%, squeezing consumers.
Like fellow emerging economies China, India and South Africa, Brazil needs to implement reforms in education, labor and product markets to raise competitiveness and productivity, the IMF said.