IMF estimates Argentine economy will contract 0.3% this year and expand 0.1% in 2016
Wednesday, April 15th 2015 - 07:53 UTC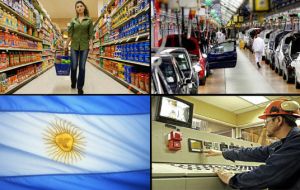 The International Monetary Fund, IMF, cut its growth estimates for Argentina for this year forecasting a 0.3% contraction followed by a shy recovery of 0.1% in 2016, the first post-Kirchner year. The data is from the IMF World Economic Outlook released on Tuesday in Washington.
The WEO also estimates that inflation in Argentina will climb to 18.6% by the end of 2015, lower than projections from local analysts, but will balloon to 23.2% next year. Argentina ranks fifth among countries in the world with the highest inflation levels, an honor belonging to Venezuela with 96.8%.
However Argentina's prospects have improved compared to the previous IMF estimates released last October, as consequence of the "restraint in the balance of payments pressures."
The positive outlook for Argentina refers to a "stronger expansion of public spending and larger private consumption which will compensate in part the fall in investments and exports."
The IMF also forecast a deficit in the current account of the balance of payments expected to account for 1.7% of GDP this year and 1.8% next year from a 0.9% in 2014. The budget deficit last year is estimated at 2.7% of GDP; 4.1% in 2015 and 4% in 2016. Regarding unemployment IMF forecasts 7.3% this year and 8.1% in 2016.
IMF also estimates that the Latin American economy will only expand 0.9% this year with Brazil, Argentina's main market in the region, will suffer a contraction of 1% in a scenario of possible stagflation and unaddressed competitiveness challenges plus energy and water rationing risks and the Petrobras scandal.
As to Argentina's other leading trade partner China, IMF estimates a slowdown in economic activity with growth rates showing drops systematically, going from 7.8% in 2014 to 6.8% this year and 6.3% next year.