Punta Arenas cruise visitors numbers up 30% during the 2014/15 season
Friday, April 17th 2015 - 03:35 UTC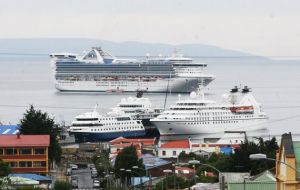 Cruise visitors to Punta Arenas, extreme south of Chile during this last 2014/15 season increased by 30%, with 48 vessel calls between last October and April this year, according to Chilean migration and international police records. This represents 78.872 cruise passengers, and is an increase over the 35 calls from the previous season 2013/2014.
According to Police Chief Edilio Gacitúa the 78.872 figure refers to passengers calling at Punta Arenas, Puerto Natales and Puerto Williams. This compares with the 54.614 from 2013/14 season, and "we never expected such an increase".
"Anyhow, making an objective analysis we did our job: out staff boarded the vessels before they called in Magallanes region, so as to have tourists with all the documentation ready when they arrived here, and if any inconveniences, which were minimum, we could address them in the least time possible" said Gacitúa.
"The most common setback this season was the expiration of visas, since because of climate reasons some cruises were delayed or changed itinerates, and some passengers documents were out of date, but we can also say that all these situations were successfully addressed 100%", concluded the police officer.