Uruguay insists with the EU trade accord, even leaving Mercosur aside
Monday, April 20th 2015 - 23:41 UTC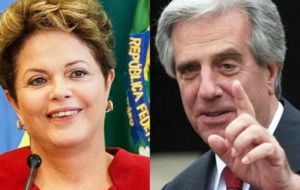 Uruguay's president Tabare Vazquez announced that when he meets with Brazil's Dilma Rousseff next month, they will consider as a priority how to get the Mercosur-European Union talks for a trade agreement rolling again.
Mercosur/EU cooperation and trade talks took off in 1999 but remained stalled for several years until re-launched in 2010, however with mounting obstacles on both sides.
"It is essential that we advance together with Brazil in trade matters to see if we can finally reach an agreement Mercosur/EU, a long standing issue but which Uruguay together with Brazil and Paraguay we are of the opinion must be advanced. Argentina is a bit reluctant, but we shall see", said Vazquez during a visit with several ministers to Cerro Largo, a county north of the country neighboring with Brazil.
In case Argentina prevents the concretion of the trade agreement in the framework of Mercosur, Uruguay and Brazil will analyze and consider the following steps, including the option outside the South American regional group.
"The idea is that if we can advance as a block, let's advance as a block, which is the best since it gives us greater standing and influence, but if we can't advance as a block we will study the steps to be considered and act on them", underscored the Uruguayan president.
One of the clauses from the Mercosur founding charter impedes free trade agreements with third parties unless there is a unanimous consensus.
Vazquez added it was important to expand trade agreements beyond Mercosur and mentioned his concern over the drop in exports to Mercosur members, Brazil and Venezuela. He was referring mainly to dairy produce since Uruguay has special accords with the two countries.
"Imagine how difficult it is to access other markets where we don't have agreements and our competitors have them", pointed out the Uruguayan leader.
Regarding relations with Argentina, Vazquez revealed that at foreign ministers level there is an understanding for a meeting with president Cristina Fernandez, 'as soon as possible', but so far nothing has happened.
The only contact the two presidents had was during the recent Americas' summit in Panama City, but it was 'mostly formal' since the Argentine leader arrived late, did not participate of the official dinner with all heads of states and government, and left earlier.
She also missed the inauguration of Vazquez, on March first and sent her vice-president Amado Boudou who faces a series of court cases for alleged corruption and influence peddling.
Mercosur and the EU are at a stage where they have the tariff-reductions proposals ready to exchange, but have not advanced, with criticisms, when nor recriminations from both sides.
Mercosur member Argentina in the midst of a presidential election campaign (next October) is dragging its feet and on the EU side, several members, France, Ireland, Spain are concerned about the competitiveness of Mercosur agriculture.
However Uruguay with the new government of Vazquez and concerned about the faltering of the commodities boom is anxious to reach other markets and establish trade agreements.
Uruguay is currently an observer of the Pacific Alliance, the more dynamic group along the Pacific coast which includes Chile, Peru, Colombia and Mexico, all countries which are forecasted to grow strongly this year and in 2016, contrary to what is expected from Mercosur members, Brazil, Argentina and Venezuela.