Falklands' public consultation period on oil industry impact extended until Friday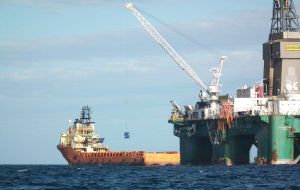 The Falkland Islands government (FIG) announced it has extended the public consultation period for the Oil & Gas Social Effects Monitoring Program, which was originally intended to end this week. The new deadline is Friday 24 April.
The survey offers the opportunity for the people of the Falklands to express their say on what FIG, in collaboration with the Oil & Gas companies and the wider community, should monitor to minimize the impacts of Oil & Gas on the community. The idea is to collect responses from as many different people and form as many different sections of the community as possible.
The survey also provides vital baseline data for a number of factors that can be monitored in the future, for example local perceptions about crime and safety, levels of participation in community events, and views on the cost and quality of housing. The resulting framework will ensure that the Falkland Islands Government will be able to oversee and respond to any adverse effects that emerge.
The consultation period now ends on Friday 24th April and responses can be submitted online and links are also available on the Facebook page set up for the study: "Falklands Social Impacts of Oil Study". It will also be available in hard copy format in KEMH Reception, Stanley Post Office, Chandlery, Stanley Services, Bitter Sweet and the Policy Unit.
To submit hard copy responses; deposit boxes are located in KEMH reception and the Post Office, or alternatively you can return it by post to the Policy Unit, Secretariat. The survey should take no longer than 15 minutes to complete.
Oil companies are currently on a drilling campaign in Falklands' waters, in the second out of six wells, with the first Zebedee delivering promising results for the exploitation of oil and gas. The first shipments of Falklands oil are scheduled for 2019, delayed from the original tentative 2017 because of the current fall in international prices of crude.