Australia intercepts and boards the fishing vessel 'Perlon', from the IUU list
Tuesday, April 28th 2015 - 05:38 UTC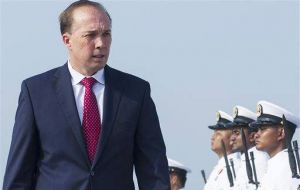 Australia has intercepted in the Southern Ocean the fishing vessel Perlon, believed to have been operating under a false flag in defiance of international conventions, according to an official report from the Ministry of Immigration and Border Protection.
Officers from the Australian Customs and Border Protection Service (ACBPS) and Australian Defence Force (ADF) boarded and searched the internationally listed illegal, unreported and unregulated (IUU) fishing vessel Perlon on Wednesday, 22 April 2015, after intercepting it approximately 2,900 nautical miles from the Australian mainland in the region west of the Cocos (Keeling) Islands.
The vessel was first detected by an ADF maritime patrol aircraft, operating under the control of Border Protection Command (BPC). Once its location was confirmed, an ACBPS vessel, also operating under the control of BPC, intercepted and boarded the IUU fishing vessel Perlon.
During the boarding, ACBPS officers observed a significant quantity of frozen fish in storage, suspected to be toothfish, which is suspected to have been caught illegally.
The Australian Government will conduct further inquiries in relation to the vessel's nationality, ownership and authority to fish. This information will be shared with Regional Plan of Action (RPOA) and other relevant nations, in an effort to deny port access to this vessel, and where possible detain and prosecute those involved in its operation.
Minister for Immigration and Border Protection Peter Dutton said Australia's actions highlighted the government's commitment to Southern Ocean protection.
"Australia is working closely with international partners to close the net on the illegal fishers and their transnational crime syndicates" Mr. Dutton said.
"Following the boarding of the IUU vessel Kunlun by Customs and Border Protection officers in February this year, Thai authorities detained the vessel and catch when it entered the port of Phuket in March; investigations are ongoing.
"Also in March, Malaysian authorities detained the IUU vessel Viking, and the master of that vessel has been prosecuted. In April, the IUU Thunder sank off the coast of Africa."
"Clearly, it's been a bad year for illegal fishers seeking to plunder the Southern Ocean, and this is another excellent result of Australia's efforts to protect our marine environment."
"These kinds of activities have led to a significant reduction in IUU fishing activity in the Southern Ocean", said Minister Dutton.