Brazil's economy expected to further contract and inflation to reach 8.25%
Tuesday, April 28th 2015 - 05:44 UTC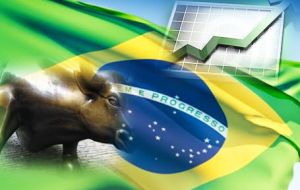 Analysts have reviewed negatively Brazil's 2015 inflation and growth forecasts, according to the latest Focus report from the Central Bank, released on Monday. The survey which includes 100 analysts from private financial institutions on the state of the economy anticipates inflation of 8.25% and 1.1% contraction of GDP by the end of the year.
According to Focus inflation is expected to reach 8.25%, up from 8.23% only a week ago when the previous release. The estimate is in the range of the 8.2% inflation projection included in the government's draft budget guidance submitted to Congress two weeks ago.
However both the private inflation projections and budget estimates are well above the government's official inflation target of 4.5% for the year, with a 2 percentage points band.
Brazil finished 2014 with an inflation rate of 6.41%, well above the 5.91% rate registered in the prior year but below the top end of the government's range.
Inflation in last March reached 1.32% over February, the highest monthly level since 2003 and the steepest price increase for the third month of a year since 1995, the Brazilian Institute of Geography and Statistics, IBGE, reported. An inflation rate of more than 8% would be the highest since 2003, when prices surged 9.3%.
As to growth the Focus survey expects a 1.1% contraction this year, compared to the 1.03% estimate released last week. A contraction of this magnitude would be the worst performance by Brazil's economy since 1990.
Analysts have cut their GDP estimates for 17 weeks in a row. Brazil's economy grew just 0.10% last year, compared to 2013, IBGE said.