Flexibility to discuss trade accords with third parties, Uruguay demands from Mercosur
Wednesday, April 29th 2015 - 22:59 UTC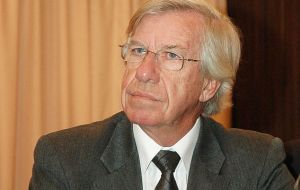 Brazil's deteriorating economy and the recession tendency in Argentina, Mercosur main and largest partners, are influencing inter-group trade and the Uruguayan government is pressing for more flexibility that should allow it to negotiate agreements or understandings with third parties.
"All our efforts and energies will be on negotiations to demand more flexibility from Mercosur, admitting the problems our partners have and giving them time to correct them, but in exchange or compensation we demand the flexibility Uruguay needs to open to the world to other accords", said former vice-president and currently Economy minister Danilo Astori, during a speech before the US-Uruguay commerce chamber.
Since taking office last first March, the government of President Tabare Vazquez has given his administration a radical change regarding Mercosur affairs, particularly demanding the stalled group gets moving again or at least allow individual members to reach agreements with third parties currently limited by the consensus clause.
In effect the request is supported by the latest trade numbers for this year's first quarter, Uruguayan sales to Brazil have dropped 23% compared to the same period a year ago, and to Argentina with bilateral exchange already battered, exports fell 5.4%. Trade with Mercosur partners is significant because it includes mostly manufactured goods with difficult access to other markets.
With Venezuela, Uruguayan sales plunged 75%, particularly the dairy industry, to which must be added arrears of over 80 million dollars. Meanwhile to countries such as China, exports continue to increase (first customer for renowned Uruguayan beef) and exports to the US jumped over 40%.
All this in a context of an economy that has steadily expanded for the last twelve years and now faces a very different and challenging world scenario, admits minister Astori.
"Argentina and Brazil are complicating the regional situation. I can't recall a period in recent decades when we had a situation where we had problems with our two big neighbors simultaneously" added Astori.
According to the Mercosur charter members need a consensus to advance in trade agreements with third countries, and this clause should be modified, "since the block is going through one of its worst historic moments", pointed out the Uruguayan minister, who together with his orthodox team have steered the country's economy for the last ten years.
"At a moment when Uruguay faces weakened partners such as Brazil and Argentina, with money exchange rates increasing in an unbalanced way, the diagnosis is not encouraging" explains economist Gabriela Mordeckk from the Uruguayan School of Economics.
"We have some goods which have been left without markets and not being able to negotiate trade agreements with other countries, it is difficult to obtain the profit margins that Mercosur at good times, has awarded because of no tariffs", added the economist. "That is why it is so important for Uruguay to uncouple from Mercosur but without abandoning it".
"What we are looking for is to formalize inside Mercosur the possibility of advancing at different pace and speed" added the Uruguayan official. Uruguay is strongly supportive of Brazil's declared intention of reaching a trade and cooperation agreement with the European Union, but talks remain stalled, because of the European situation, Brazil's slowdown and mainly Argentina's measures to shield its market, manufacturers and jobs.
Uruguay's Exporters' Union strongly supports President Vazquez new approach to trade particularly following the collapse of exchanges with Mercosur.
"We must understand there are countries that can't advance at the same speed, while other states must understand there are others that can't keep losing time and markets", said Alvaro Queijó, head of the Exporters Union.