Number of tourists visiting Antarctica was down, according to IAATO
Thursday, April 30th 2015 - 07:21 UTC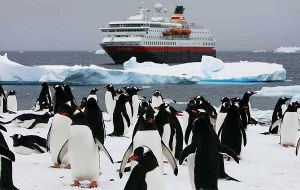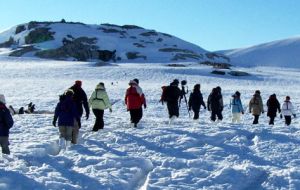 The number of adventurous tourists visiting Antarctica dipped in the 2014-15 austral season but is expected to bounce back this year, according to visitor totals released by the International Association of Antarctica Tour Operators (IAATO).
The total number of visitors traveling to Antarctica with IAATO members was 36,702, a decrease of 2 percent compared to the previous season.
Since 2011-12, levels of visitation have been increasing modestly, but are still considerably less than the peak of 46,265 during the 2007-08 austral summer. Some larger ships left the market in 2011 after a ban on the use of heavy fuel oil. In the 2011-12 season, only 26,500 people visited Antarctica, but the numbers began to slowly rise after that.
The 2014-15 numbers were in line with what IAATO expected. But they were dampened a bit after a plane crash-landed in November at the Chilean Frei Station, where air/cruise passengers are picked up by tour operators. It took a while to remove the plane from the runway, so some passengers couldn't get to Frei Station and therefore board their ship, explained Amanda Lynnes, communications and operations assistant for IAATO.
The visitor numbers are expected to jump to 40,029 in the 2015-16 season due to the introduction of two new ships to the IAATO fleet.
The visitor decrease was seen in all sectors of Antarctic tourism, IAATO said, except for tours to the interior, a growing segment that is still only 1 percent of the market. That style of trip increased by 19 percent, which is by 70 people.
The vast majority of travelers — 73 percent — visit the coastal regions of the Antarctic Peninsula on ships carrying fewer than 500 passengers. A quarter (26 percent) of tourists did not set foot ashore in Antarctica because they were travelling on cruise-only vessels that don't make landings.
American and Australian visitors remained the most numerous, accounting for 34 percent and 11 percent of the total number, respectively, almost unchanged from last year. Other visitors hailed from Great Britain (9 percent), China (8 percent) and Germany (8 percent).
The vast majority of tourism voyages operate in the Antarctic Peninsula region during the five-month austral summer season from November to March, departing from Ushuaia, Argentina, or, to a lesser extent, other ports north of the Antarctic Treaty Area.