US economy slows down to 0.2% growth in the first quarter, but forecast is optimistic
Thursday, April 30th 2015 - 01:51 UTC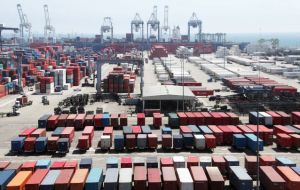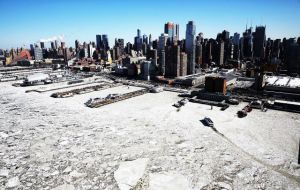 The US economy "all but stagnated" in the first three months of the year, growing at an annual rate of just 0.2%, official figures show. The growth figure was far lower than expectations, which had forecast growth would be about 1%. Harsh winter weather for a second year dampened consumer spending, while energy companies struggling with low oil prices cut investment.
The strength of the dollar also hurt exports, which fell by 7.2%. A strike by dock workers at normally busy West Coast ports also hindered growth.
But the US Commerce Department said there were signs that activity was picking up in the second quarter. The US growth figure much lower than the previous three months, when the economy expanded at an annualized pace of 2.2%.
The Commerce Department did not say how much impact the weather, the strong dollar and the ports disruptions had had on growth. But economists estimated that the unusually cold weather in February could have affected economic growth by as much as half a percentage point, with the port disruptions reducing growth by a further 0.3 percentage points.
Growth in consumer spending, which accounts for more than two-thirds of US economic activity, slowed to 1.9%. That compared with 4.4% growth in the fourth quarter of 2014.
The extreme winter weather also meant construction output slowed, while lower oil prices led to a slowdown in US oil production and a reduction in investment. Business investment in mining, exploration, shafts and oil wells plunged by 48.7% in the quarter, the Commerce Department said.
US oil field services provider Schlumberger has cut its capital spending plans for this year by about $500m to $2.5bn, while Halliburton has reduced investment by about 15% to $2.8bn.
However, economists believe that most of the cuts to investment by energy companies have already taken place, and so energy-related spending will not weigh on growth as much in the second quarter of the year.
Paul Ashworth, chief US economist at Capital Economics, said the US economy "all but stagnated" in the first quarter.
But he added that while the 0.2% annualized gain might raise fears that the recovery was somehow coming off the rails, he anticipated a "marked acceleration in growth" over the remaining three quarters of this year.
"Over the past 12 months, the economy has expanded by 3% and we would expect it to continue growing at around that pace this year too," he added.