Leading Argentine economist says that we must admit "IMF is incorrigible"
Friday, May 1st 2015 - 06:44 UTC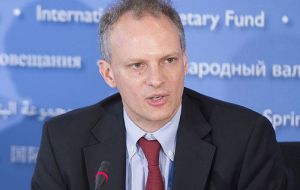 Economist Aldo Ferrer has said the International Monetary Fund (IMF) was "incorrigible", questioning the report the multilateral credit organism released this week saying Argentina should devalue on its peso currency and carry out austerity policies to get back on the track of growth.
"There are economists who are planning to head back to the (International Monetary) Fund," Ferrer, a former Economy minister, ambassador and university professor, told a Buenos Aires radio station, adding the organization's recommendations were "useless."
"What the IMF says has to be taken as information and have the prudence to not owe nothing to it," Ferrer affirmed considering the organization commanded by Christine Lagarde "incorrigible."
"The IMF always has its monetary perspective without considering structural matters."
Earlier this week the IMF anticipated a 0.3% drop in Argentine GDP over the course of 2015, while recommending a devaluation of the peso and austerity measures in order to stimulate growth in the economy.
In the report "Economic Perspectives: The Americas", penned by Western Hemisphere director Alejandro Werner and Roberto Cardarelli, IMF Chile mission chief, the multilateral organization reiterated its gloomy prediction for the Argentine economy, and added that in 2016, growth will be limited to just 0.1%.
IMF pointed out that restrictions on trade and the exchange market have also created a large gap between the official and black market dollar rates. It admitted, however, that the gap has stabilized since the end of 2014 between 40 and 50%, with inflation still in double digits but falling.
The current account is estimated to be in the red to the tune of 1.7% of GDP this year and 1.8% the following year. With the primary fiscal deficit calculated at 1.6% of GDP for 2015, falling to 1.4% the next year.
Finally Argentina needs a combination of "tighter macroeconomic policies, a weaker exchange rate (that is to say, devaluation) and fewer microeconomic distortions in order to lay the foundations for a return to stability and growth."