Tax free imported vehicles for residents from Kirchner's Santa Cruz province
Friday, May 1st 2015 - 07:14 UTC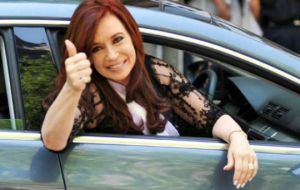 Argentine residents from the Patagonian province of Santa Cruz, the Kirchner family political stronghold, will be allowed to buy imported cars free of federal taxes, according to the latest resolution 31/2015, signed by president Cristina Fernandez and published in the official Gazette.
The resolution however is quite more ample since it also includes construction materials, textiles, electrical home appliances plus cars of foreign origin which will be traded at retail level in the 'free zones' of Rio Gallegos and Caleta Olivia.
Once the resolution is implemented, (with the imports concession won by London Supply), Santa Cruz residents will have access to autos from outside Mercosur, with the tax benefits.
"The maximum CIF import price for each vehicle unit is 25.000 US dollars for common autos and 40.000 US dollars for pickups". Nevertheless it must be added that Tierra del Fuego has a similar system and in the rest of Argentina some tax benefits caps are currently at 22.300 and 27.500 US dollars.
Likewise autos purchased by Santa Cruz residents in their province under the special regime will be exempt from VAT, Customs fees, personal assets and internal taxes. The only fiscal burden will be the provincial gross income tax. The benefit also has limits, one vehicle every five years for a resident family.
Furthermore those wishing to travel outside the province of Santa Cruz must complete a Customs form, which decides on the request, and if allowed will have a maximum period of 90 days.