Falklands implements 'local content register' for companies to become suppliers of oil sector
Monday, May 4th 2015 - 05:37 UTC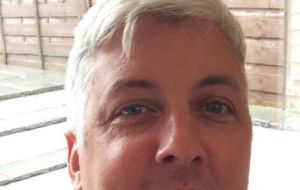 Falkland Islands are implementing the 'local content register' the process by which companies can be recognized as local and thus become suppliers for the oil and gas sector, which is expected to continue advancing following the current round of drilling and successful discovery announcements. A first company already registered last 7 April.
The initiative "follows on from the publication in December of the Local Content Code of Practice that set out what would be a 'local' company and how we expect the oil and gas sector to be proactive in sourcing goods and services from the Falkland Islands" pointed out to Penguin News, Oil and Gas Program manager Mike Brough.
He added that if any company wishes to apply "to be on the register then you are now able to do so as the Falkland Islands Government has now set up the process, and how we will verify the information we receive in order to approve companies on to the register".
The Local Content Board, which will oversee the process, is made up of General Manager Falkland Islands Development Company (Chair) the Director Mineral Resources (Vice Chair) the Registrar General, the Head of Policy and Mr. Brough.
It recently considered the first application through the system, that of Invenio FI ltd. The health and safety and training company was formally accepted onto the register on April 7.
Alongside this, FIDC has launched the South Atlantic Registry of Oil Suppliers (SAROS) website which is their procurement portal where oil and gas companies will advertise their contracts and tenders and where businesses both local and others can submit their bids for work.
Any company that is on the Local Content Register will be clearly identified within SAROS so that the oil and gas sector know whether they are dealing with a local company or not.
This all ties together to promote local opportunities to local business explained Mr Brough.
Premier Oil's Country Manager Tim Martin said: "The Local Content register and SAROS are welcome developments which complement the Local Content Code of Practice.
"Premier has already received excellent support from the local business community which we are keen to develop further. The introduction of the Local Content Register and SAROS gives Premier and our contractors the ability to more easily identify and engage with local suppliers as we continue to work to enhance the involvement of Falkland business in our operations, in accordance with the Code of Practice."
The form for the Application to Join Local Content Register can be found on www.falklands-oil. com/ under the 'Regulatory' and then 'Local Content' headings. (Penguin News).-