Mercosur main partners' bilateral trade stalled for the last six years
Tuesday, May 5th 2015 - 09:52 UTC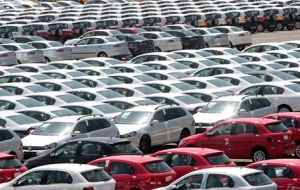 Bilateral trade between Mercosur main partners Argentina and Brazil, has stalled at an annual 30bn dollars during the last six years (2008/2014), with no prospects of a recovery during 2015, according to Finsoport consultants from Buenos Aires.
Meanwhile trade between Argentina and China jumped from 1.4bn dollars in 2002, to 17bn in 2011, although it has also stagnated in the last three years, added Finsoport. Regarding Russia bilateral trade has increased from a mere 230 million dollars in 2002 to 2.5bn in 2013.
"Argentina's foreign trade policy has become to the say the least, confusing", points out the consultant's report.
"If we analyze foreign trade as a source of strong currency, commerce with China and Russia has been in the red in recent years, so deepening links with these two countries could further accumulate negative results", indicates Finsoport, most probably in reference to the recent 'strategic' agreements signed by President Cristina Fernandez in her latest incursions to Beijing and Moscow.
As to the decline of bilateral trade with Brazil, the auto industry which was the great dynamo, through a compensation system, has seen the worst performance. Last year Argentina shipped to Brazil 6.9bn dollars in finished cars and auto-parts. On the opposite direction, Brazil exported to Argentina 5.3bn dollars in the same items.
However Argentine auto industry exports dropped 1.4bn dollars (down 17%) between 2013 and 2014, "in a context of slow Brazilian growth and with an exchange rate more favorable to Argentina".
Last year Argentine exports to Brazil reached 14.143bn dollars mainly vehicles, auto-parts, industrial inputs such as plastic and chemicals; grains and sub products, mainly wheat. Brazil exported to Argentina 14.282bn dollars with vehicles and auto parts leading (5.284bn); machinery (1.379bn) and minerals (1.011bn).