Mercosur prepared to consider the possibility of a 'two-speed' system with EU
Tuesday, May 5th 2015 - 10:01 UTC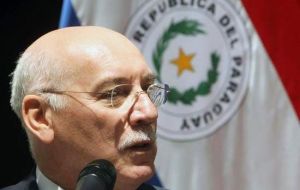 Paraguay's foreign affairs minister Eladio Loizaga admitted in Madrid that Mercosur could consider the possibility of a "two-speed" system in trade and cooperation negotiations with the European Union. The minister was the main speaker at the event organized by Casa de America and the Spanish government news agency EFE.
"Mercosur/EU Negotiations which started in 1999 have had their ups and downs and in 2012 were re-launched. Hopefully during the coming meeting next June in Brussels between the EU with Celac, Mercosur members on the sidelines will attempt to address the talks issue with the Europeans", said Loizaga.
On June 10/11, the Community of Latin American and Caribbean States, will be holding talks with the European Union to advance in trade and political issues.
"Some Mercosur members might be ready to begin negotiations with the EU, while the rest can join in time", said Loizaga in reference to the exchange of lower-tariff proposals with the EU, which is considered the next step of bilateral negotiations, but which has been delayed this time "because the 28 members of the EU have still to hammer out some differences; we in Mercosur have agreed on the proposal".
Paraguay is scheduled to take the pro tempore chair of Mercosur in the second half of the year, and according to Loizaga if needed. "Mercosur is prepared to consider a two-speed system".
Loizaga also pointed out that Mercosur is Paraguay's main trading partner while the EU second. However since beginning this month Paraguay will again have access to the EU market with prime beef , that relation could change.
Regarding the coming presidential elections in Argentina next October and its influence on Mercosur, the Paraguayan official said he did not want to get involved in another country's domestic politics. However and based on statements from two presidential hopefuls, Daniel Scioli and Mauricio Macri they have both said they are committed to Mercosur and the trade agreement with Europe.
"Argentina is a very rich country and has an important role to play both in trade and political terms", underlined Loizaga.
Mercosur full members are Argentina, Brazil, Paraguay, Uruguay and Venezuela with Bolivia and Ecuador in the process of incorporation.