US approves licenses for passenger ferry service with Cuba
Wednesday, May 6th 2015 - 05:49 UTC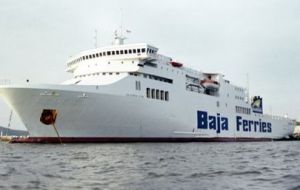 The US Treasury Department has approved licenses for passenger ferry service between the United States and Cuba, a Treasury Department official announced. One of the licenses was issued to Baja Ferries, part of a major shipping group with passengers and cargo operations, including on Mexico's west coast, according to a lawyer who handled the license application.
Ferry services between Cuba and the United States were cut off in the early 1960s, following the Cuban revolution that brought Fidel Castro to power.
In December, the United States and Cuba announced plans to renew diplomatic relations after 54 years, and have since held high level talks.
"The ships are ready to go," said Robert Muse, a Washington-based lawyer who represented Baja Ferries and specializes in Cuba embargo matters. "This is a further step in bringing Cuba and the United States closer together."
However the Treasury Department official from the Office of Foreign Assets Control (OFAC), which handles economic and trade sanctions, would not say how many licenses had been approved.
"I can confirm that OFAC has issued certain specific licenses for passenger ferry service, but we cannot provide additional details as to whom or how many," said Hagar Chemali, a spokeswoman for the OFAC.
She noted that Cuba regulations have not changed and no general license was issued authorizing passenger ferry service to Cuba. "Specific licenses may be issued on a case-by-case basis," she added.