Argentina will file complaints against speculative funds in Belgium
Saturday, May 9th 2015 - 09:57 UTC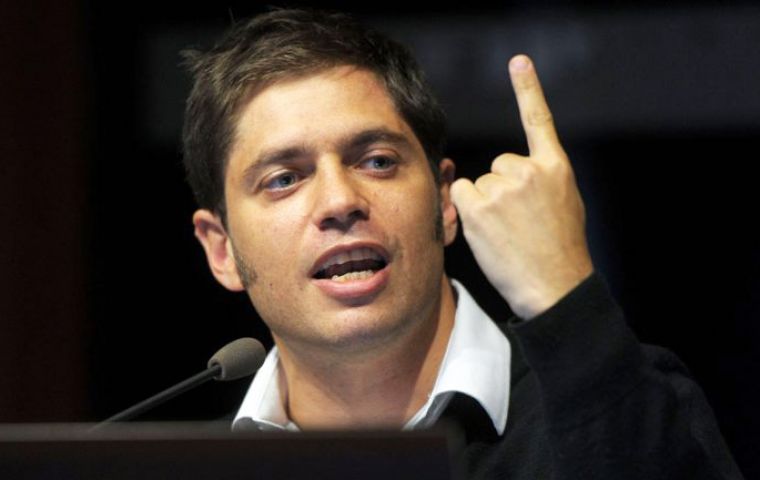 Economy Minister Axel Kicillof confirmed the Argentine government will be filing a complaint against speculative or 'vulture' funds for seeking to seize the accounts of the Argentine embassy in Belgium, and the Argentine mission before the EU in Brussels, adding hedge funds are the most "despicable and repugnant" of the world financial system.
In statements to a Buenos Aires radio station on Friday, minister Kicillof questioned NML Capital that sought to confiscate the bank accounts of Argentina's embassy in Brussels and of diplomats there.
"Argentina will not kneel facing the pressures of vulture funds. (NML Capital) has made another show-off in Belgium, because they cannot seize sovereign assets. It has been another pitiful advertising maneuver," Kicillof told reporters.
"We will denounce vultures over this matter because they are the most despicable and repugnant (thing) there can exist in the international financial system. Almost no one in the world puts up with them anymore."
Argentina is facing a billionaire dispute against so called "vulture" funds suing the country over its defaulted bonds more than a decade ago.
The Cristina Fernández administration has repeatedly refused to comply with a ruling by US Judge Thomas Griesa ordering Buenos Aires to pay NML Capital and other holdouts in full, ratifying the government's position it will not fail on the debt restructuring agreements reached with the majority (93%) of Argentina's creditors back in 2005 and 2010, calling instead for a "fair" deal.