Mujica's book rekindles Brazilian scandal involving Lula da Silva
Saturday, May 9th 2015 - 09:34 UTC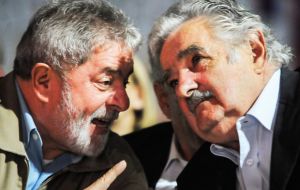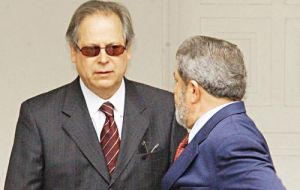 Uruguay's president Jose Mujica has now denied alleged statements collected in a book about his life written by two journalists, that he personally presented last Sunday in Buenos Aires and in which there is a mention to former president Lula da Silva and the 'mensalao', one of Brazil's largest corruption scandals involving monthly payments to have bills passed by Congress.
"It seems a friend of Lula da Silva crops up talking with me about the 'mensalao', the truth is I never talked about the 'mensalao' with no Brazilian since I keep certain things to myself; (former cabinet chief Jose) Dirceu for me is no crook, he might be sentenced and sent to jail, but for me he's a formidable fighter", said Mujica during the presentation of his book "A black sheep to power" in Montevideo.
Dirceu according to the Brazilian Justice was the ring leader of the scam to skim funds from government and private corporations to make monthly payments to members of Congress and ensure the approval of bills. When Lula da Silva was first elected in 2002 he did not have a majority in Congress and allegedly his closest advisors set up the ring to make 'things more fluid'.
The former Brazilian president is not corrupt and lived through the whole corruption scandal or 'mensalao' with 'anguish and a bit or guilt', Mujica is quoted in the book on his political life.
According to the book written by two Uruguayan journalists from a Montevideo political weekly, of which he was the regular informer, Lula da Silva told Mujica during a private meeting in 2010 in Brasilia that "he had to deal with many immoral things including blackmail" and that "this was the only way to rule Brazil"
The extracts of the book published in the Brazilian media immediately triggered controversy, given the fact that Lula da Silva's two administrations and his Workers Party have been plagued with corruption allegations. The Lula da Silva Institute apparently refused to comment on the revelations.
However late Friday the Institute came up with a release according to which there had been a misinterpretation of Mujica's comments on the famous 'mensalao'.
Allegedly in 2010 when Mujica and vice-president Danilo Astori visited Brasilia, "Lula felt the need to clear up the situation saying that the 'mensalao' is also Brazil and like all things in Brazil, is big, enormous".
The text follows with Mujica saying that "the 'mensalao' is an old political practice going back for centuries. Great world politicians had to appeal to similar mechanisms, Sometimes it is the infamous price to pay for the great works".
Lula da Silva has systematically denied ever being aware of the corruption scandal which almost derailed his administration and has severely struck the political structure of his ruling Workers Party and even his government teams.
Back in 2005 when details of the 'mensalao' scheme came to light with the monthly payments to buy support from members of Congress, Lula da Silva said he felt "betrayed by unacceptable practices of which he was never aware".
"Lula da Silva is not corrupt as was (former impeached Brazilian president Fernando) Collor de Mello and other ex Brazilian presidents", Mujica is quoted several times in the book.
One of the two reporters, Daniel Danza later said that for Mujica, "both Lula and Dilma Rousseff are a kind of godfathers which helped him as president and Uruguay, very much. Dilma was always ready to help Uruguay and was far more executive than Lula, but lacks his charisma".