On Sunday 2.6 million Uruguayans vote for their local authorities
Saturday, May 9th 2015 - 10:21 UTC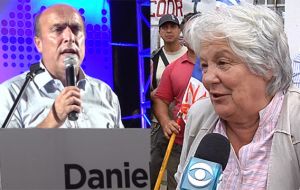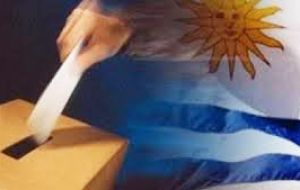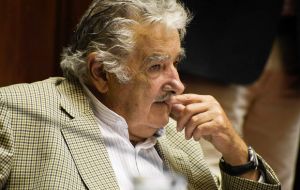 On Sunday May 10, Uruguay is holding county and municipal elections with 2.6 million eligible voters (out of a population of 3.3m) in an event which will be more centered on local issues and thus will not necessarily replicate the absolute majority vote of the ruling coalition in last October/November presidential and legislative election.
Uruguay is divided into 19 departments (counties) and each of them will be choosing the 'intendente' or mayor and councilors (ediles) plus other similar authorities at a lower 'third government level'. Voting in Uruguay is compulsory so turnout is expected to be high, plus a good weather forecast for Sunday despite the fall.
Of the 19 departments, the ruling coalition is forecasted to win in at least two, the capital Montevideo and surrounding Canelones county with well over half the country's population, thus ratifying the ruling Broad Front coalition of president Tabare Vazquez and former president Jose Mujica electoral stronghold.
In the rest of the seventeen departments the main opposition National party is expected to win a majority with junior opposition Colorado party holding on to one, Rivera and a disputed second, Salto.
Basically voters in each department will chose a mayor and 31 local lawmakers, plus a mayor and four councilors for each of the 'third level government' districts. This in numbers means Uruguayans will be electing 19 department mayors, 589 councilors, plus at 'third level government' 112 mayors and 448 councilors.
All public opinion polls indicate as said above that the ruling coalition will comfortably retain Montevideo and Canelones. The National party with strong support in rural areas, is expected to hold on to at least eight departments: Treinta y Tres, Lavalleja, Soriano, Colonia, San José, Flores, Florida and Tacuarembó.
The Broad Front is fighting to retain, Artigas, Rocha and Maldonado, and is strongly disputing the National party strongholds of Paysandu, Rio Negro and Cerro Largo. The Colorado party is struggling to retain Salto, challenged by the Broad Front.
Besides local issues, regional and municipal election help to promote hopefuls for higher elected post at national level, both to the national Legislative and even to the Executive, and measure the strength of the different groupings in a coalition.
This is particularly the case in Montevideo with two interesting issues: on the one hand the dispute inside the ruling coalition as to who takes control of the wealthiest town hall and jumping board to challenge presidential hopefuls in 2019 elections. The second is the performance of a new opposition party, Concertación, which is basically independent, and distanced from the National and Colorado parties, much discredited in the Uruguayan capital.
The dispute is also important since Montevideo in the October/November presidential election voted over 55% for the Broad Front. If this is repeated at city level it could mean the Councilors will enjoy a majority of 16 in the 31 body, and would only need opposition support when special majorities are requested.
But actually the race for Montevideo mayor's seat is taking place between two colliding forces inside the Broad Front: Senator Lucia Topolansky and wife of former populist president Jose Mujica supported by eight groups, and Daniel Martínez, Socialist and an engineer who has the backing of the more orthodox and middle of the road groups aligned behind president Tabare Vazquez and Economy minister Danilo Astori.
Lucia Topolansky took off well ahead in the opinion polls but gradually Martinez managed to convince the middle-ground and 72 hours before Sunday's vote was leading by several points. However it must be remembered that, as apparently has happened in the UK, pollsters missed quite badly in Uruguay's last year primaries and national elections.
Pollsters admit not entering the 'asentamientos' or Uruguay's version of favelas or shanty towns that surround the city with an estimated 300.000 people living in them. Besides, since the majority of residents in these areas only have cellular phones, a phone survey is unreliable.
As to confirm Lucia's defeat to Martinez, only a week before Uruguayans go to the polls, last Sunday, in Buenos Aires book show (the most important in Spanish speaking Americas), her husband Mujica launched a book, "A black sheep in power" written by two reporters of his total trust in which they collect several-years opinions expressed in the former president slang-ironic style and he does not say nice things about his partners in coalition.
Astori ('he has no sex-appeal, he'll always be the hopeful candidate'), Vazquez ('he's older in the mind than I am (81) , (with or without makeup) and he'll never let you in his heart'), and other expressions exposing the lack of solidarity of many of the coalition members: 'lip-service to the poor but unclenching capitalist pockets and hearts', which obviously have rattled the coalition to the bones.
The second interesting issue to follow is the newly formed Concertación party and a non political-system candidate, Edgardo Novick. A successful businessman who started helping his parents in their garden market, and made his way up and now owns fashion stores, a hotel, is partner in a shopping mall, has two sons who play football in one of Uruguay's main teams, Peñarol, but also a third trained in Harvard.
From being totally unknown to public opinion, Novick has steadily climbed and latest polls indicate he could collect probably close to 20% of votes casts: the message was typical middle-class, straight and simple: his experience as a good manager, combating waste, reversing expenditure in pharaoh-style investments, no more patronizing or contracting of staff, jealous administration of tax-payers monies.
If all works out as polls indicate, Martinez and Novick could be positioned in five years time for an even bigger prize.