Tourism boom in Cuba: Europeans want to enjoy the island "before the Americans arrive"
Saturday, May 9th 2015 - 08:37 UTC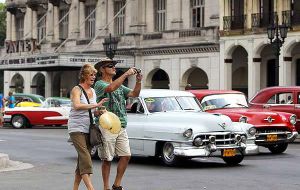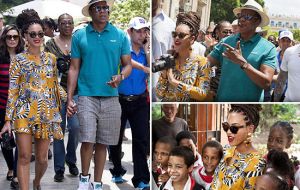 The Cuban government says it has prepared for a surge in tourist arrivals with an airport expansion plan and new luxury hotels under construction in Havana and popular beach resorts like Varadero. But according to tour operators, it is already getting difficult to find available hotel rooms or reserve tables at popular restaurants, especially during the high season.
As relations with the United States improve, Cuba is on the verge of a major influx of tourists, and it is not hard to see why.
Apart from the sun, sea, scenery and historic attractions the island shares with so many of its Caribbean neighbors, Cuba boasts everything from its legendary cigars to classic 1950s cars rumbling through the streets of one of the last bastions of communism in the world.
In the words of the BBC's Will Grant: "Cuba boasts something unique in the international tourism market: that intangible stamp of 'authenticity' which so many visitors demand."
And while Washington's travel ban on US citizens visiting the island is still officially in place, it carries little weight with many potential US tourists.
Indeed, many Americans reportedly feel emboldened to visit the tourist paradise of pre-revolution days, especially after seeing their president engage in talks with Raul Castro; viewing images of music's power couple, Jay-Z and Beyonce, strolling the streets of old Havana; and taking in Hollywood movies shot on location in Cuba.
In the past, US citizens who have travelled to Cuba illegally have done so via Canada, Mexico or the Bahamas, but since December, travel visas for Americans have been more readily available in 12 key categories, from sporting events to cultural and religious exchanges.
Charter flights to Havana from New York and New Orleans have begun, commercial ferry services have been authorized from Florida, and companies like MasterCard and AirBnB have announced plans to operate on the island.
An unprecedented rise in demand for flights and accommodation has resulted, with one New York tour operator admitting that its bookings to Cuba had jumped by almost 250% in March alone.
The number of US visitors, 600,000 annually, a figure that includes many Cuban-Americans visiting relatives, is expected to escalate. The number of non-US tourists could also double over the same period.
The number of tourists from Europe has also been increasing, fuelled in part by a sense of urgency among some European and Canadian tourists to try and experience Cuba "before the Americans arrive," according to the BBC.