Under pressure from Brazil, Venezuela announces legislative elections for end of the year
Monday, May 11th 2015 - 09:05 UTC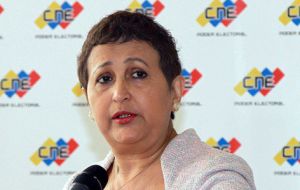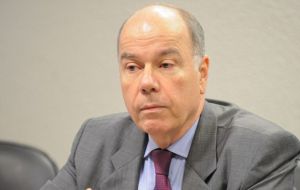 Venezuela will hold parliamentary elections in the last quarter of this year and the exact date will be announced soon, the head of the National Electoral Council (CNE) said on Sunday. The elected lawmakers will be inaugurated for five years on 2016.
Pressure has been mounting on the populist President Nicolas Maduro to set the date for the 2015 parliamentary elections. The scheduled vote comes as a severe economic downturn has eroded Maduro and the chavista regime popularity, leading to speculation in some quarters that the election may not be called at all.
"Where are they getting this idea that we won't have elections?" Tibisay Lucena said in an interview with the Televen television channel.
"From the start of this year, we've said that this is an electoral year. We can say that in the last quarter of this year we'll have the elections. We're going to announce it very soon."
Regional heavyweight Brazil on Thursday urged elections to be called as soon as possible. In effect Brazilian Foreign Minister Mauro Vieira said he met with Venezuelan government officials last week and told them a date must be set quickly for the National Assembly election that is meant to be held before the end of the year.
"I insisted that elections should be called as soon as possible and held within the legal time frame," Vieira said at a news conference.
Venezuelan opposition see the parliamentary election as a chance to capitalize on the widespread discontent over the deepening economic crisis and an advance towards ending more than 15 years of the chavista regime. Surveys show Venezuela's opposition leading in projections of voters' intentions.
Vieira spoke to reporters after the wives of Venezuela's two most prominent jailed opposition leaders visited Congress and were applauded by lawmakers, including members of parties in President Dilma Rousseff's governing coalition.
Rousseff and her Workers' Party have faced increasing criticism for maintaining close ties to Maduro. Brazil's Senate last Tuesday passed a resolution criticizing Maduro's government for arbitrarily imprisoning opponents.
"A nation like Brazil that has a president who was once a political prisoner cannot keep silent when it sees a neighboring country keep almost 90 political prisoners," said Aecio Neves, leader of Brazil's centrist PSDB opposition party.
"It is time the Brazilian government acted in defense of democracy in Venezuela," he said at a meeting with Mitzy de Ledezma and Lilian Tintori, wives of the jailed Venezuelan opposition leaders.
Rousseff did not agree to meet with them but sent a letter in which she said Brazil was "tirelessly" seeking a peaceful resolution to Venezuela's political crisis.