Vazquez and Rousseff meeting will address Mercosur/EU trade negotiations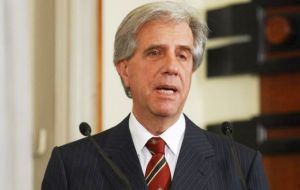 Uruguay and Brazil presidents, scheduled to hold a bilateral meeting next 21 May in Brasilia will be addressing Mercosur issues, and advancing in the proposal that will allow the group's members to sign bilateral agreements with third parties not belonging to the region, thus avoiding the 'consensus' clause clamp.
"In the coming trip to Brazil to meet with President Dilma Rousseff we will be talking about Mercosur, and bilateral trade between Brazil and Uruguay" said Uruguayan president Tabare Vazquez after casting his ballot at Sunday's regional and municipal elections.
Insisting on the need for an "open regionalism", Vazquez said that Mercosur junior members must have "the opportunity to reach bilateral agreements with other countries outside the region or other blocks in the process of integration".
Vazquez comments follow on recent statements from Brazil's Development, Industry and Foreign Trade minister, Armando Monteiro who said that Mercosur should grant its members "more liberty" to reach agreements with third parties or other economic blocks without the need of having the whole group involved (and possible veto), as the current charter demands.
"Apparently this was not supported by the large members, Brazil and Argentina, except in certain circumstances, as when Uruguay managed a free trade agreement with Mexico, but now it seems that Brazil is also claiming such a window of opportunity", indicated the Uruguayan president.
Regarding bilateral trade with Brazil, Vazquez said that "Uruguayans know very well that our sales to that country have fallen", but Brazil continues to be "our main trade partner", so the purpose of the trip is also "to see if we can agree on some favorable situation for our exports, to recover what we've lost".
Vazquez also talked about the natural gas plant being constructed in Montevideo by a French and Japanese consortium and which has subcontracted part of the work to a Brazilian company currently under administration protection, since it was involved in the Petrobras scandal and had all its bank accounts and other assets frozen.
"It's a big problem, the gas plant. I had a meeting with the companies involved and they argued they needed to re-draft the contract because of the Brazilian company that left the job half done", pointed out Vazquez who revealed the consortium instead of the original 14.5 million dollars per month during 15 years to manage the plant once operational, "they now wanted 20 million for twenty years".
"I definitively rejected the proposal, Uruguay is a serious country, responsible which has always honored its contracts, and we expect the same from the other parties", said Vazquez who added he would not be surprised if the consortium abandons the project.
And "if they do so the first thing will be to cash the 100 million dollars guarantee, and whatever they have built so far", and "if needed we will freeze the project until better international circumstances".
The 1.2bn dollars gas plant project, to import liquid gas and convert it in Montevideo to supply local companies and hopefully Argentina was approved under strong controversy during the administration of president Jose Mujica. From the beginning the project was plagued with claims of tilted contracts, over costs and insufficient environmental impact studies and true market possibilities. Relying on Argentina as a potential market was very much questioned in Uruguay by the opposition and oil and gas industry experts.