Argentina reacts to hedge funds attempt to block a fresh debt emission
Tuesday, May 12th 2015 - 06:25 UTC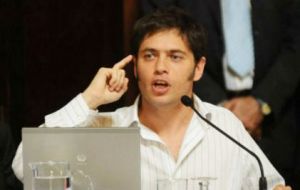 Argentina has launched a stinging attack on hedge funds attempting to block payment on last month's Bonar 24 debt issuance, stating that the petition shows the 'vulture funds' desperation following the successful auction.
"It is nothing more than another desperate attempt, after the vulture funds' failure in their efforts to stop the recent auction, in which they openly and unsuccessfully threaten Bonar 24 buyers," the Economy Ministry led by Axel Kicillof fired on Monday in a press statement.
Earlier on Monday it was reported that a group of hedge funds holding defaulted Argentine debt titles, led by Aurelius Capital, filed a motion which seeks to include the Argentine Bonar 24 issuance within the range of New York district judge Thomas Griesa's pari passu ruling.
That ruling stops Argentina from carrying out debt interest payments until those creditors who did not restructure bonds are compensated in full.
The release further alleges that "in a new attempt at extortion, the vulture funds want Griesa to stop payments of a title that is under Argentine legislation, that was issued through a public auction held in Argentina and whose payments are made in this country."
"This is internal debt in foreign currency, which has nothing to do with judge Griesa's jurisdiction," the Ministry warned.
"This presentation confirms that the strategy of extortion designed by the vultures through the pari passu order has not worked, which is why they are increasing their attack in ever more illegal and erratic manners, even in the terms of Griesa's sentence".
The statement concluded by accusing the holdouts of pushing Argentina even further from negotiating a settlement in the decade-long conflict.
"The vulture funds, instead of negotiating a fair solution have pushed on every occasion for extortive actions that lead nowhere. The measures now requested by Aurelius and Blue Angel do nothing more than deepen the failure of those extortive actions as a way of solving the conflict", concludes the release.
At issue is the treatment of Argentina's Bonar bonds, which are denominated in US dollars but governed by local law. The Argentine government successfully issued 1.4 billion dollars in Bonar 2024 bonds last month in order to raise needed capital.
"Argentina's Bonar 2024 Bonds and its other External Indebtedness also are subject to the Equal Treatment Provision (pari-passu), and Argentina can present no reason why it should be allowed to issue more of these bonds and make payments on these bonds without making a ratable payment under Plaintiffs' bonds," Aurelius said in its filing.
Aurelius Chairman Mark Brodsky said in a statement emailed to media organizations that Argentine Economy Minister Axel Kicillof's boasts that Argentina's Bonar 2024 issuance was international proves the point that the government is thumbing its nose at the U.S. courts.
"Mr. Kicillof likes to brag that the recent Bonar 24 offering was international. We agree. That makes those bonds subject to our pari passu covenant. The hedge funds that piled into these richly priced bonds did so with eyes wide open," said Brodsky.