Guyana voting in early election to end Executive/Legislative standoff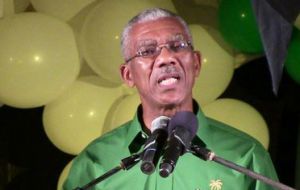 Guyana voted Monday in early elections pitting embattled President Donald Ramotar against an upstart opposition alliance seeking to unite voters across racial lines with its calls to end corruption.
Ramotar, whose party has ruled the country since 1992, called the elections to end a standoff with the opposition-controlled parliament, which he suspended to avoid a no-confidence vote.
The leftist leader is hoping to shore up the mandate of his People's Progressive Party-Civic (PPPC) and stop parliament from thwarting his pet infrastructure projects -- including a new international airport, a 165-megawatt hydropower plant and a high-tech specialty hospital.
But the new five-party opposition coalition is shaking up politics in Guyana, whose 750,000 people have roots in India, Africa and the Americas, and have traditionally voted along ethnic lines.
It has brought together traditionally Afro-Guyanese and Indian Guyanese parties and is also seeking to win the indigenous Amerindian vote to take both the presidency and the 65-seat National Assembly.
Guyana, a former British colony on the northeast coast of South America, shares cultural ties with the English-speaking Caribbean. It is the third poorest country in South America, with 43% of the population living in poverty.
It is perhaps best known abroad for the Jonestown massacre, the 1978 mass suicide of more than 900 adults and children from the People's Temple sect led by Jim Jones.
Under the country's proportional representation system, the presidency will go to the party that claims the most seats in parliament. The elections commission says final results are not expected until Wednesday, owing to difficulties in transporting ballot boxes across the rugged country.
Assistant Police Commissioner Leslie James said voting had been "steady and peaceful," though there were reports of long lines at some of the more than 2,000 polling stations.
There are 570,000 registered voters but authorities acknowledge the voter roll is bloated because the names of many dead people and emigrants have not been erased.
Guyana has one of the world's highest emigration rates -- more than 55% of its citizens live abroad. Except for diplomatic staff, Guyanese expatriates are not allowed to vote unless they return home to cast their ballots.
The opposition coalition's presidential candidate is retired army commander David Granger, 69, a career military officer with no political experience outside losing the 2011 presidential race to Ramotar.
But he has established himself as a serious contender with a platform centered on security issues -- a key concern for voters fed up with drug crimes, human trafficking, gun violence and corruption.
The general elections come after opposition parties blocked Ramotar's funding requests in parliament, demanding more transparent accounting of government spending.
When the 65-year-old leader defied parliamentary budget cuts, spending the money anyway and submitting "Statements of Excesses" after the fact, the opposition called a no-confidence vote.
With the motion set to pass, the president suspended parliament in November and then called elections, setting them 18 months ahead of schedule.