In Chile when in difficulties turn right: former IMF deputy chief Finance minister
Tuesday, May 12th 2015 - 10:41 UTC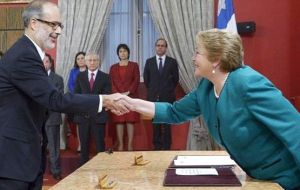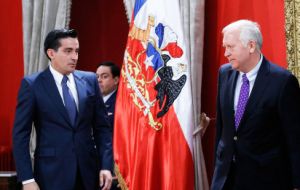 In a move which has been interpreted as a right turn, economist Rodrigo Valdes was named as Chile's finance minister on Monday by President Michelle Bachelet, in a sweeping cabinet reshuffle in which four of her closest ministers were sacked or shifted into other roles. On Valdes' immediate to-do list is an upcoming 1.26 billion dollars international debt issue.
Although some changes were expected a year into Bachelet's second term, it is the first time since Chile returned to democracy in 1990 that the finance minister has been dismissed mid-term.
The appointments follow financial scandals, a slowing economy and disillusion with the pace and content of reforms that have eroded Bachelet's popularity in recent polls. However, he is not expected to make significant adjustments to Bachelet's ambitious tax-and-spend reform agenda
Economists welcomed the appointment of Valdes, 48, who is chairman of state bank Banco del Estado and has also held roles at Barclays and BTG Pactual. He has a doctorate in economics from the Massachusetts Institute of Technology and was formerly a deputy director of the International Monetary Fund.
Outgoing Finance Minister Alberto Arenas had a strained relationship with the business community following the implementation of an unpopular tax reform and what was perceived as poor communication with the market.
He will also need to get to grips with an economy that has shown only anemic signs of recovery since hitting a five-year low of 1.9% growth last year, with business and consumer confidence weak.
The other key change to the cabinet was Interior Minister Rodrigo Peñailillo, one of Bachelet's closest allies, who was replaced by political veteran Jorge Burgos. Peñailillo had been tainted by media reports of connections with one of the companies at the center of a campaign finance scandal.
Bachelet, who took office for a second term in March 2014 after her first 2006-2010 administration, also replaced her spokesman and chief of staff, both close advisors. In total there were six new appointees to the cabinet, with three changes of role.
"Today it is time to give the government a new lease of life and this new phase which is as demanding as it is inspiring requires renovated energy and new faces," said Bachelet.