Rousseff expected at the White House next June 30: a long delayed bilateral agenda waits
Thursday, May 14th 2015 - 08:34 UTC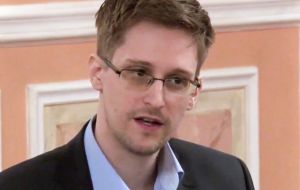 Next June 30 Brazilian President Dilma Rousseff will visit Washington D.C. to meet with President Barack Obama, a highly anticipated event given tensions between the two governments over the past two years.
Historically relations between the U.S. and Brazil have had their high and low points, since both nations have strived to be regional leaders, with the U.S. enjoying the upper hand.
However during the 1964 coup in Brazil (which installed a ferociously anti communist military regime that ruled until 1985), the U.S. sent a carrier group, headed by the USS Forrestal, to monitor the situation and intervene in favor of the coup-plotters if necessary.
Relations took a turn for the worst in 2013, when NSA whistleblower Edward Snowden revealed that the intelligence agency he worked for had spied on foreign leaders and entities, including on U.S.-friendly leaders, such as Rousseff. According to reports, the Brazilian head of state's phone calls were monitored, as well as Brazilian embassies and the giant oil and gas corporation Petrobras.
This prompted severe tensions between Brasilia and Washington, resulting in Rousseff canceling a trip to Washington in October 2013. She also heavily criticized US intelligence operations during a speech at the UN general assembly in September of the same year.
However bilateral relations have had a change to the better and despite Rousseff's re-election last October, the president has become extremely vulnerable because of the Petrobras corruption scandal, debate over a tough austerity program and strained relations with Congress.
US Vice-president Joe Biden has been on the phone several times and attended Rousseff's inauguration last January. Besides Obama and Rousseff met at the Americas' summit last month in Panama, where the US president achieved a major diplomatic victory because of his administration's new policy towards Cuba and a historic face-to-face with president Raul Castro.
Obama topped the event by stating that Brazil "is obviously not only one of the most important countries in the hemisphere, but is a global leader on a whole range of issues."
But the bilateral agenda will include other issues: alternative energies, science, technology, education, defense cooperation and a visa waiver regime since over 2.2 million Brazilians visited the US in 2014, which makes it the most important country for the US tourism industry behind Canada, Mexico, UK and Japan.