Exxon discovers oil off Guyana coast, in territory claimed by Venezuela
Friday, May 15th 2015 - 04:41 UTC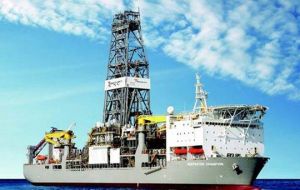 Exxon Mobil Corp has discovered oil off the coast of Guyana, the company and the South American nation's government said on Thursday, potentially inflaming a long-running territorial dispute with neighboring Venezuela.
The discovery is located in the Stabroek Block off a border region that is claimed by Venezuela in a territorial controversy dating back more than a century, even though the area functions in practice as Guyanese territory.
The government said it is "optimistic of a hydrocarbon discovery of commercial quantities which will further transform Guyana's economy."
Exxon's country manager for Guyana said the company was still evaluating the commercial viability of the discovery.
A Venezuelan foreign ministry official said the ministry was aware of the situation but had no immediate comment.
The exploration project is led by Exxon, with Hess Corp and a subsidiary of China National Offshore Oil Company also participating.
Exxon signed an agreement with Guyana to explore the 26,800 square kilometer block, 160 to 320 kilometers offshore, in 1999.
Guyana in 2013 said Venezuela's navy evicted a ship used by Texas-based Anadarko Petroleum Corp to explore for oil in the offshore Roraima block. Guyana called the incident a security threat and Venezuela described it as a violation of its territory.