Massive turnout in Guatemala demanding president Perez Molina steps down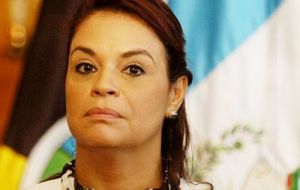 Thousands of Guatemalans took to the streets on Saturday, demanding the nation's President Otto Perez Molina leave office in the wake of a scandal that claimed his former Vice President Roxana Baldetti.
Despite the rain, demonstrators in 13 cities across the Central American nation banged drums and blew whistles in the peaceful protests.
Those in the capital made their way to the main square, unfurling a banner reading "we are the people." The action was organized via social media, without any discernible leadership.
Several sectors of industry threw their support behind the movement, including business leaders, student groups, farmers and human rights organizations.
In April, the UN International Commission Against Impunity announced the results of an investigation into a customs bribery ring uncovered by Guatemalan prosecutors.
Some of the country's top tax officials, as well as an aide to Baldetti who was alleged to be the ringleader, were named in the inquiry, leading to Baldetti stepping down from her post on May 8.
Baldetti maintains she did not play a part in the scam, and as yet no charges have been laid, while her aide has gone on the run. At least 50 people are suspected of being somehow involved in the ring.
Perez Molina has denied any involvement in the scandal, and called for a crackdown on corruption. Protesters have vowed to continue demonstrating until the president resigns, and those who were guilty brought to justice.