Pope Francis prays for Argentina on the country's National Day
Thursday, May 21st 2015 - 06:40 UTC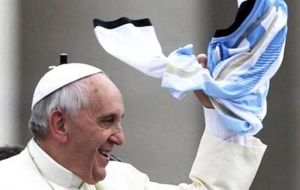 Pope Francis has sent a letter to President Cristina Fernández to mark festivities for May week, during which Argentina commemorates the formation of the First Patriotic Government on 25 May 1810.
"On the day that Argentina celebrates its national day, I send my greetings to your Excellency, which I accompany with a prayer to the Lord that he gives all Argentines abundant fortunes and the gifts of peaceful lives together and growing prosperity in justice and solidarity," the pontiff wrote in the missive sent today, according to official sources.
The pope will receive Cristina Fernández n June 7 in the Vatican, which will be fifth meeting between the head of state and the leader of the Catholic Church.
"The new meeting between the President and the pope reaffirms the continuity of cordial relations between the two," Faiths secretary Guillermo Oliveri told Argentina's government news agency Telam back in April when the visit was confirmed.