Uruguay and Brazil summit to consider a more flexible Mercosur
Thursday, May 21st 2015 - 07:27 UTC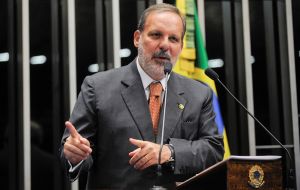 Uruguayan president Tabare Vazquez will be meeting his peer, Dilma Rousseff in Brasilia this Thursday to address a dense bilateral agenda, and more specifically the workings and future of Mercosur, in search for a more flexible group, open to agreements with third parties.
According to a release late Wednesday from the Brazilian foreign ministry "the presidents will discuss advances in the main bilateral integration projects and regional and multilateral issues, with emphasis on Mercosur". Even when the release does not mention it, the coincidence of Brazil and Uruguay in reviewing Mercosur Decision 32/2000 will be the core of discussions.
The Decision 32/2000 which was adopted fifteen years ago establishes that Mercosur full members, Argentina, Brazil, Paraguay, Uruguay and Venezuela (which joined in 2011) must negotiate any trade agreement jointly, which for many business organizations represents a straightjacket.
Uruguay and Paraguay, considered Mercosur junior members, have been demanding for years a greater flexibility of Decision 32, but until now had only faced deaf ears from Argentina and Brazil. But things are changing and in recent months the second government of President Rousseff has sent strong messages indicating that Decision 32 hampers the expansion of Brazil's foreign trade, much needed now since for the first time in fourteen years the country in 2014 experienced a trade balance deficit.
"There's nothing in the world that crystallizes to a point that impedes adjustments, and giving countries such as Brazil a greater margin of freedom to reach new agreements with other countries or blocks", said Development, Industry and Foreign Trade minister Armando Monteiro during a recent forum.
"Mercosur is an indissoluble marriage, but this does not mean that the relation can't be put on the table and discussed", underlined Monteiro. A statement that had a very positive echo from Uruguay, particularly references to the ongoing (stalled) talks for a trade and cooperation agreement with the European Union, which was started in 1999.
The idea supported by many different industries that each Mercosur member advances at its own pace, that is 'different speeds', could help untie the current situation, as Monteiro also suggested during his latest comments.
"Brazil is the main engine of these negotiations and we see with satisfaction this stance, a fine tuning which has been repeatedly requested by the governments from Uruguay and Paraguay", said Uruguay's foreign minister Rodolfo Nin Novoa.
However diplomatic sources from Brazil and Uruguay coincided that the main obstacle for the 'flexibility clause' remains Argentina that in recent years has been committed to ensure its manufacturing and domestic market with different measures questioned (and protested) by Mercosur partners.
Nevertheless the new Brazilian strategy and the fact Argentina is holding presidential elections at the end of the year, has injected hope to business organizations such as the powerful Brazilian National Industry Confederation, CNI, which from 2002 to 2010 was under the leadership of minister Monteiro and for years had been calling for greater flexibility from Mercosur.
Besides Mercosur, Vazquez and Rousseff will be addressing the bilateral agenda which includes initiatives from both governments in frontier areas for a greater physical integration and in areas considered strategic such as energy and infrastructure. Another issue is further promoting bilateral trade which last year reached a record 4.9bn dollars confirming Brazil as Uruguay's main trade partner.