Argentina's soy market paralyzed by oilseed crushers union three weeks strike
Saturday, May 23rd 2015 - 06:06 UTC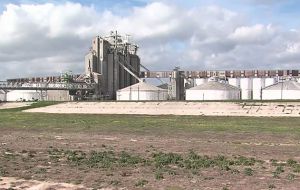 The soy market in Argentina's pivotal grains hub was virtually paralyzed for the fifth day on Friday as most exporters refrained from purchases in a bid to pressure the government to resolve a nearly three-week long strike among crushing workers.
The strike by the opposition-allied Industrial Oilseed Complex Workers Federation in the southern districts of the Rosario port has slowed the loading of vessels and comes in the middle of the harvest season for exporters in the world's leading supplier of soy-meal and soy-oil.
Leaders of the federation, which accounts overall for 20% of grains crushers on Friday organized pickets to block the main highway leading to the port and rejected government proposals to limit salary demands.
"The message coming informally from exporters is that purchases will be minimal until the government takes real action on the topic of the crushers' strikes," a grains broker who deals daily with export firms said.
Crushers in the northern San Lorenzo district, who are affiliated with more pro-government unions, have carried on working, although exporters running those milling plants are refusing to buy new soy and instead are using deliveries from recent purchases and stocks.
Grain companies whose milling plants and terminals are directly affected by the strike include Cargill and Louis Dreyfus, though exports so far have been unaffected.
"The other companies are joining in out of solidarity, it's a way of adding pressure to talks," a trader in Rosario said.
Tough pay negotiations are common in Argentina, as workers negotiate wages in line with one of the world's highest inflation rates.
Executives at foreign energy firms this week said labor disputes were on the rise and costing them millions of dollars as they explore the country's vast but barely-tapped Vaca Muerta shale oil and gas field.
While the government estimates annual inflation in the stagnating economy at around 15.8%, private economists say it is more than 25%. Two powerful trade unions reached a deal on Tuesday with the government for a roughly 27% salary hike for workers.
The Rosario grains hub has faced a further obstacle this week from a vessel that ran aground and has been blocking shipping on the main waterway. In effect the Nord Hydra laden with coal, ran aground on Tuesday, 290 kilometers from Buenos Aires blocking the route to Rosario from where 80% of Argentina's grains and oilseeds are shipped.
The Nord Hydra is the second ship to be stranded on the main route to Rosario in a week. Bulk Guatemala ran aground May 13, causing a two-day stoppage. The timing couldn't be worse as Argentina harvests a record 60 million tons of soy. The Argentine Water Institute blames a dry-spell in neighboring Brazil for reducing water levels by 2 feet below the May average to the lowest since 2009.
"Two straight years of drought in Brazil's Parana basin are affecting our main river route at a time the crop is being shipped," Juan Burus, an engineer at the institute, said. "We won't see a sudden recovery just with rains in northern Argentina; the situation will only change after significant rain in Brazil."