Petrobras former director sentenced five years in prison for money laundering
Wednesday, May 27th 2015 - 04:53 UTC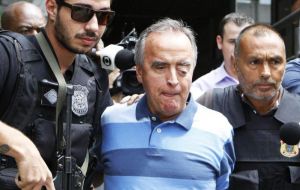 A Brazilian judge has sentenced a former international director at the country's largest corporation and government managed Petrobras to five years in prison for money laundering, the second company executive convicted in an ongoing corruption probe.
Federal Judge Sergio Moro said there was ample evidence that the former director, Nestor Cervero, set up a front company to launder money. He also used illicit money to buy a luxury apartment in Rio de Janeiro, the judge said.
Cervero was fired from Petrobras, in 2014 and arrested in January as he stepped off a plane from Europe. He is also suspected of receiving bribes in exchange for awarding drilling ship contracts.
Cervero's lawyer, Edson Ribeiro, said in an email that the sentence had been rushed and that his client plans to appeal.
The massive kickback scandal has paralyzed Petrobras' infrastructure plans and undermined President Dilma Rousseff's political standing. More than 100 people have been indicted and 50 politicians are under investigation for taking bribe money.
Paulo Roberto Costa, former Petrobras director of refining and supply, was sentenced last month to seven years and six months in prison but will serve only one year of house arrest because he signed a plea bargain deal with prosecutors.
Moro said Cervero's sentence should be in prison initially, leaving open the possibility that some of it could be completed under house arrest.
Prosecutors have accused former Petrobras executives and two dozen engineering firms of inflating the value of service contracts and funneling the excess funds into their own bank accounts and to political parties, a graft scheme they believe moved more than 2 billion dollars over a decade.