Queen's Speech anticipates challenging year ahead for Cameron and his 12 seats majority
Thursday, May 28th 2015 - 06:37 UTC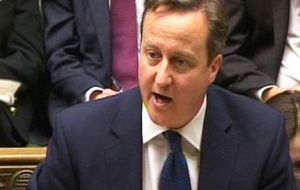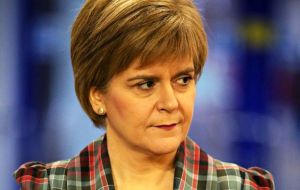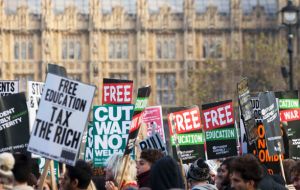 Prime Minister David Cameron's government formally announced a referendum on whether Britain should leave the EU in a policy speech read by Queen Elizabeth II on Westminster's grandest day on Wednesday.

Outlining the newly-elected government's plans for its first year, the 89-year-old queen, in a crown and ceremonial dress, confirmed Britain would face further cuts to public spending.

This will accompany measures to help middle-income Britons, like more free childcare, healthcare spending, and a promise not to raise three major tax rates for five years.

"It's a Queen's Speech for working people from a one nation government that will bring our country together," Cameron told the House of Commons after the address.

After winning this month's election with a narrow surprise majority, the centre-right government will on Thursday publish its first bill which will pave the way for a referendum by 2017 on whether Britain should leave the European Union.

Cameron said he hoped the measure would pass in "extra quick time" and has not ruled out holding the referendum vote next year.

After the speech hundreds of people marched through London in protest, carrying banners like "free education" and "tax the rich", and angrily confronting police.

Left-wing groups are rallying to protest throughout the summer, with the government's plans to cut welfare spending by £12 billion ($18.5 billion) expected to prove particularly contentious.

The acting leader of Britain's opposition centre-left Labor party Harriet Harman told parliament a tentative return to economic growth was not being felt throughout society.

"Britain faces a fragile future for our economy, our constitution and our public services," Harman said.

The white-clad monarch, delivering the 62nd Queen's Speech of her reign, arrived at parliament in a gold and black carriage with dozens of horsemen to the sound of the national anthem, "God Save The Queen".

In a bizarre tradition dating back to times of hostility between parliament and monarchy, an MP was "held hostage" at Buckingham Palace until she returned safely.

Her speech also featured legislation to secure a "strong and lasting constitutional settlement" which will hand new powers to Scotland after it voted against independence in a referendum last year.

However, Nicola Sturgeon's pro-independence Scottish National Party (SNP), which multiplied its seats nine-fold to become the third largest group in the Commons following the election, wants the government to go further.

"The key problem with this Queen's Speech as far as Scotland is concerned is that it does not take account of the dramatically changed political circumstances we now find ourselves in," said Scottish First Minister Nicola Sturgeon.

SNP lawmakers during the ceremonies wore white roses -- a tribute to the Scottish poet Hugh MacDiarmid's "The Little White Rose of Scotland".

The government is also introducing new powers to ban "extremist organizations" seen as responsible for radicalization. It hopes to push through a communications bill dubbed a "snoopers' charter" by critics, which could oblige mobile phone companies and Internet service providers to hand individuals' browsing data to security services.

A proposal for 50% of trade union members to have to vote in strike ballots for them to be valid provoked anger from the Trades Union Congress umbrella group.

The TUC said the government had declared "open season" on members' rights.

The Conservatives have a majority of only 12 in the 650-seat Commons and could struggle to pass controversial legislation if they face rebellions from within their own ranks.

Cameron has already delayed a plan to scrap some European human rights laws, expected in the Queen's Speech, in favor of a "British bill of rights" due to opposition from within his party.

But his official spokesman told reporters to "be in no doubt" that the move -- which Cameron says would make it easier to deport foreign criminals -- would still go ahead at some point.