Undaunted Blatter blames corruption on others and pledges to rebuild trust in FIFA
Friday, May 29th 2015 - 08:33 UTC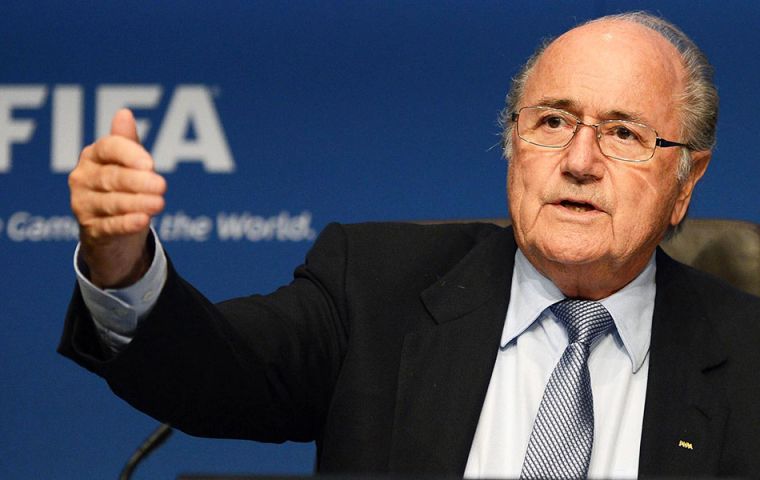 Despite growing pressure to resign having presided over a series of corruption scandals, Sepp Blatter tells Congress he is still the man to rebuild trust in FIFA's battered reputation
His voice wavering as he took the podium, Blatter, who has missed several meetings in Zurich since a $150 million bribery scandal exposed by U.S. authorities on Wednesday brought his organization to the lowest ebb in its 111-year history, said "these are unprecedented and difficult times for FIFA".
"The events of yesterday have cast a long shadow over football and for this week's congress. The actions of individuals bring shame and humiliation on football and demand action and change from us all," the 79-year-old said, refusing to accept responsibility for the FIFA officials who were involved in racketeering, money laundering and bribery under his watch.
After the 2018/2022 World Cup bribery scandal rocked FIFA in 2010, Blatter had opened the 2011 congress at which he was re-elected by saying with similar remarks denying any crisis.
It was a similar refrain on Thursday, as if four years of a scandal-ridden reforms process had never happened.
Blatter bizarrely painted himself as the savior of world football's governing body a day after the US Department of Justice highlighted the culture of corruption that he has allowed to flourish since he took office in 1998.
"We cannot allow the reputation of football and FIFA to be dragged through the mud any longer. It has to stop here and now," he said.
With calls for him to resign from some of football's stakeholders, including UEFA president Michel Platini, he acknowledged that "many people hold me ultimately responsible for the actions and reputation of the global football community whether on decisions for hosting of World Cups or a corruption scandal".
The FIFA chief, who faces a presidential challenge from Prince Ali Bin Al Hussein in Friday's election, then promptly failed to accept total responsibility.
"We or I cannot monitor everyone all of the time. If people want to do wrong they will also try to hide it."
As he did in 2011, when he dug into his book of maritime metaphors saying he wanted to right FIFA's ship that was in "troubled waters", Blatter said he wanted to "find a way forward to fix things".
FIFA's reputation was in tatters on Wednesday when the US Department of Justice charged 14 football and marketing officials with 47 counts of corruption. "The indictment alleges corruption that is rampant, systemic, and deep-rooted both abroad and here in the United States," said Attorney General Loretta Lynch.
Yet Blatter shrugged off the scandal, telling congress delegates that corrupt football officials "are in the minority" and should be held responsible for their actions.
"There can be no place for corruption of any kind."
As if Friday's election is a foregone conclusion, which it is not following the latest corruption storm, Blatter appeared to take on the mantle of reformer once again. His discredited reforms process launched in 2011 apparently a distant memory.
"The next few months will not be easy for FIFA. I am sure more bad news may follow but it is necessary to begin rebuilding the trust in our organization," he said.
"Let this be the turning point. More needs to be done to make sure people in football behave ethically and responsibly. Football, the fans, the players, the clubs, the world deserves so much more."
"And we must respond tomorrow," he added. "We have the opportunity to begin on a long and difficult road to rebuilding trust. We have lost their trust or at least a big part of it and we must now earn it back…. through the decisions we make and expectations we place on each other and the way we behave individually."