Cabello denies cocaine trafficking and will file complaints against media reports in Spain and US
Monday, June 1st 2015 - 07:32 UTC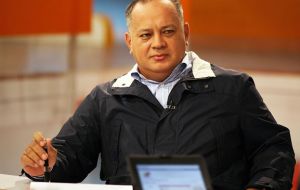 Venezuelan parliament chief Diosdado Cabello said in an interview on Sunday that he plans to file lawsuits in Spain and the United States following media reports that link him and other top officials to cocaine trafficking and money laundering.
The Wall Street Journal two weeks ago reported that US federal prosecutors were gathering evidence from former cocaine traffickers and military defectors as part of an investigation into Cabello, No. 2 of the ruling Socialist Party.
Spanish newspaper ABC in January published a story alleging Cabello's former security chief had fled for the United States with evidence that Cabello was involved in the drug trade.
Cabello denies the charges, and has sued three Venezuelan media outlets for republishing information from the ABC story.
"I've already sued here in Venezuela, but I'm also going to sue in Spain, and I'm also going to sue in the United States," said Cabello in a television interview broadcast on Sunday.
"It cannot be that in Spain the press can do this - smear someone without any type of proof. In the United States this cannot happen."
Cabello did not mention the Wall Street Journal or the New York Times, which also reported that he is under investigation by US authorities.
But he added that "this man from ABC ... has gotten himself into a big mess, because I'm going to sue him over there in Spain."
The Venezuelan government has rallied around Cabello, dismissing the accusations as Washington-backed propaganda meant to weaken President Nicolas Maduro's administration.
US authorities have for years described Venezuela as a major transshipment point for drugs produced in neighboring Colombia, and have accused a number of high-ranking officials of involvement in the trade. But as expected Venezuelan authorities deny those charges.