Teachers take to the streets of Chile to protest education bill in Congress
Tuesday, June 2nd 2015 - 05:44 UTC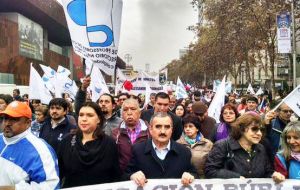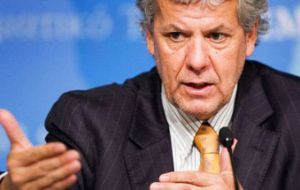 Several thousand teachers poured into the streets of Santiago and other cities of Chile to express their rejection of an education bill currently being debated in Congress. The Monday march marked the first day of a strike called by the teachers union, which demands changes in key aspects of a bill that includes some of the reforms to the education system being promoted by the Michelle Bachelet government.
Among other elements, teachers object to the imposition of certification exams and say the salary levels contemplated in the plan are too low.
In that context, union leader Jaime Gajardo asked the Education Ministry to establish a round-table discussion to seek solutions to differences over the bill.
The demonstrations "have started all over the country," Gajardo said while leading a peaceful march of teachers along Alameda Bernardo O'Higgins, the main avenue in Santiago. Joining the protest were thousands of high school students, who in the early hours Monday occupied five schools.
Chile's largest teachers union announced an indefinite strike Sunday, in protest of a bill currently being discusses in Congress.
The law, which is part of the educational reform promoted by the government of Bachelet, proposes reorganizing the salary-scale for teachers, while increasing the time that they have to spend in "non-school hours," including meetings and planning. Teachers who do not fulfill these new rules will be dismissed.
Education Minister Nicolas Eyzaguirre said he "deeply regrets" the call for an indefinite strike, but said he is open to talk with the teachers.
The education crisis in Chile has been at the centre of the country's politics over the past decade, with mass demonstrations and strikes staged by students and teachers calling for major reforms to the country's notoriously expensive and poorly run education system.