Unemployment in Punta Arenas climbs to 4.4% in February-April period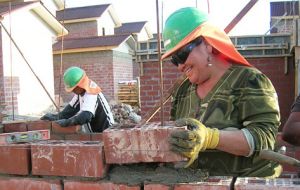 Unemployment in Magallanes Region, extreme south of Chile climbed to 4.4% in the February-April period, which represents an increase of 2.3 percentage points over the same period a year ago, according to the latest release from the INE stats office.
Retail, manufacturing and construction were the three sectors which most contributed to the increased unemployment.
"These latest figures are of concern because they have direct relation with the challenges we face since the young and the women are the groups which most suffer: they are the first to be dropped from jobs when things get rough", admitted Carlos Abarzúa Villegas, head of the regional Labor and Social Security office in Punta Arenas, capital of Magallanes.
The Chilean official underlined the need to focus on training and jobs which help to ensure stable jobs "which do not generate uncertainty when economic cycles come upon us", and to that respect he mentioned the Chilean jobs program which encompasses those unprotected groups.
"Our objective should be to ensure stable, protected jobs through the quota system to women workers and youngsters in sectors such as construction, manufacturing, retail, services, security and others covered by the government's programs".
However a breakdown of the latest figures show that male unemployment was actually 4.5%, while women remained at 4.1%, that is 0.4 percentage points lower.
Magallanes Region labor force is estimated at 80.500 people, with the highest employment rates in government administration (12.500); trade and retail (11.000); education (7.000) and construction (6.000). The latest stats mean that the number of people unemployed in Magallanes region increased by 1.880.
At national level, unemployment in Chile was 6.1%, almost unchanged since a similar period a year ago. Neighboring Los Lagos region reported the lowest unemployment in Chile with 3.1%.