Blatter resigns but says will remain in control until successor's election
Wednesday, June 3rd 2015 - 02:06 UTC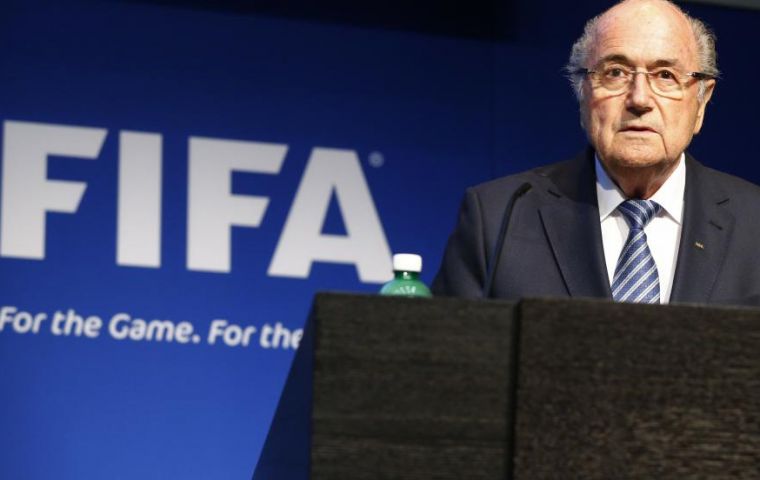 Sepp Blatter, who four days ago was re-elected for a fifth four-year term as president of FIFA, the world football's governing body announced on Tuesday in Zurich that he would resign his position and lay down his mandate at an extraordinary elective congress to be held later in the year.
The outgoing president also announced a significant reform program to be driven by Domenico Scala, the Independent Chairman of FIFA's Audit and Compliance Committee.
"I have been reflecting deeply about my presidency and about the forty years in which my life has been inextricably bound to FIFA and the great sport of football. I cherish FIFA more than anything and I want to do only what is best for FIFA and for football. I felt compelled to stand for re-election, as I believed that this was the best thing for the organization. That election is over but FIFA's challenges are not. FIFA needs a profound overhaul", said Blatter in a brief statement in French.
However despite his admission that the 209 member FIFA needed a profound overhaul, Blatter was ever more surrounded by an ongoing corruption investigation from the US Justice and FBI which last week in Zurich with collaboration from Swiss authorities netted several top FIFA representatives including two vice-presidents and was now on track to nail Secretary General Jérôme Valcke, Blatter's right hand man, allegedly linked to wire transfers involving bank payments believed to be bribes related to World Cup bids.
According to the New York Times which has had the breaking news lead on the FIFA corruption investigation, Blatter had for days tried to distance himself from the controversy, but several US officials said that in their efforts to build a case against Mr. Blatter they were hoping to win the cooperation of some of the FIFA officials now under indictment and work their way up the organization.
However Blatter's resignation is not immediate: according to Domenico Scala, who spoke to the news media after Mr. Blatter, a special meeting of FIFA's member nations will be called to elect a new president. According to FIFA's rules, there must be at least four months' notice given to members for such a meeting, so Scala indicated that the likely window for a new election is from December 2015 to March 2016.
Meanwhile Blatter will continue his duties but will focus on a program of reform that he said would be driven by Scala.
Blatter said that the next ordinary FIFA Congress will take place on 13 May 2016 in Mexico City and "this would create unnecessary delay and I will urge the Executive Committee to organize an Extraordinary Congress for the election of my successor at the earliest opportunity. This will need to be done in line with FIFA's statutes and we must allow enough time for the best candidates to present themselves and to campaign".
"For years, we have worked hard to put in place administrative reforms, but it is plain to me that while these must continue, they are not enough," Mr. Blatter said. "We need deep-rooted structural change."
Mr. Scala, in his remarks, said "nothing will be off the table" in terms of reforms for FIFA, whose image has been undeniably marred by the seemingly constant shadow of controversy. Changes could include a greater focus on transparency — including publishing the compensation earned by the president and executive committee members — as well as more stringent and uniform integrity checks, a proposal which had been previously suggested, and rejected, by members.
"There is significant work to be done in order to regain the trust of the public and to fundamentally reform the way in which people see FIFA," Mr. Scala said. "These steps will ensure that the organization cannot be used by those seeking to enrich themselves at the expense of the game."
Blatter has not been directly implicated in the US or Swiss investigations, but The New York Times reported on Monday that Blatter's top deputy, Jérôme Valcke, had been identified by US officials as a person linked to wire transfers involving bank payments believed to be bribes related to World Cup bids.
Valcke denied any involvement, and FIFA released a statement on Tuesday morning in response to the article that tried to distance Valcke from the transaction.
Mr. Blatter mentioned several components of reform that he found necessary, including a reshaping of the powerful executive committee. In a somewhat strange twist, given his lengthy presence as FIFA's leader, he also noted the importance of term limits.
In effect the five times elected president said that the size of the Executive Committee must be reduced and its members should be elected through the FIFA Congress. The integrity checks for all Executive Committee members must be organized centrally through FIFA and not through the confederations and term limits are needed not only for the president but for all members of the Executive Committee.
Blatter's departure opens up a job that will be appealing to many. The five mandate Swiss faced only one candidate for re-election on Friday, Prince Ali bin al-Hussein of Jordan, after several others dropped out. Michel Platini, the former star player and the president of the European federation, has often been an opponent of Mr. Blatter, as well as a possible successor, as has the former Portuguese player Luis Figo.