Henry's handball blessed Ireland with US$ 5m and France a place in South Africa 2010
Friday, June 5th 2015 - 04:27 UTC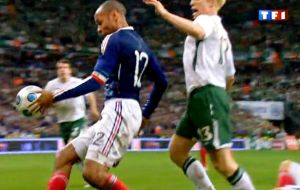 The latest revelations of allegations of irregular payments by FIFA have brought Ireland, South Africa and Venezuela under the spotlight. In effect a FIFA official has admitted Ireland received 5 million dollars in compensation for missing out on a place at the 2010 World Cup after a handball by player Thierry Henry gave France victory and a place in South Africa.
The cash from FIFA was first disclosed in public on Thursday by Football Association of Ireland chief executive John Delaney.
The payment was not disclosed in the wake of the 2009 playoff game. FIFA said on Thursday that the payment was a loan granted "to put an end to any claims against FIFA," but it would have had to be reimbursed if Ireland qualified for the 2014 World Cup. But when Ireland failed to qualify, FIFA said the loan was written off.
Meanwhile FIFA President Sepp Blatter issued his first public statement since announcing his resignation on Tuesday. He said he had started the process of reforming the federation. He met with audit and compliance chairman Domenico Scala on Thursday to "instigate meaningful reform of the administration and structure of FIFA."
"I want a comprehensive program of reform and I am very aware that only the FIFA Congress can pass these reforms," Blatter added.
In London, UK Culture Secretary John Whittingdale told parliament on Thursday that England was ready to host the 2022 World Cup if Qatar lost the right to host the finals in the wake of allegations of corruption and bribery in FIFA.
Whittingdale said "if FIFA came forward and asked us to consider hosting it, we have the facilities in this country and of course we did mount a very impressive, if unsuccessful bid to host the 2018 World Cup." He added: "If there is evidence the bid process was corrupt then I think the case for re-running it is very strong."
Qatar's Foreign Minister Khalid Bin Mohammad Al Attiyah alleged that racism was behind the allegations his country was wrongly awarded the 2022 World Cup. "Unfortunately, there are some parties that cannot swallow the fact of an Arab and Muslim country hosting this competition," he said during a visit to Tunisia on Friday.
South Africa's organized crime unit is conducting a preliminary investigation into bribery allegations surrounding the 2010 World Cup. Hangwani Mulaudzi, spokesman for the unit, said a file had been opened after documents were provided by an opposition political party.
In court documents unsealed in the US on Wednesday, former FIFA executive committee member turned whistleblower Chuck Blazer said that that he and other top officials at FIFA took bribes connected to South Africa's successful bid to host the 2010 World Cup.
Plea bargain details published by the US Department of Justice revealed that Blazer admitted taking bribes totaling $10 million dollars for South Africa to host the 2010 World Cup and an undisclosed sum for Morocco's unsuccessful bid to host the 1998 tournament. However South Africa's government denies it paid bribes.
Finally Venezuela's public prosecutor's office said on Thursday that agents raided the headquarters of the Venezuelan Football Federation to gather evidence for a criminal investigation. The organization's former head, Rafael Esquivel, was detained in Switzerland last week along with six other FIFA officials accused of taking bribes.
The raid was carried out shortly after the prosecutor's office asked for Esquivel's bank accounts to be frozen as he is under investigation for money-laundering.