For a world in distress, "the answer is Latin America" argues Argentine ambassador in London
Saturday, June 6th 2015 - 10:02 UTC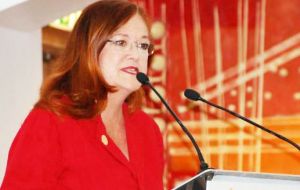 The Argentine ambassador in the UK, Alicia Castro, was one of the main speakers invited to an event yesterday which included the discussions "another world is possible" and "against foreign intervention in Latin America". Dozens of activists from across the UK expressed their support for a range of Latin American causes.
During her speech at the NUT's (National Union of Teachers), headquarters, Alicia Castro upheld the policies implemented by the region's progressive governments and defended Argentina's stance against the 'vulture' (speculative) funds.
"Faced with a world in crisis, we must ask ourselves: in what kind of society do we want to live, and what models are there to follow. The answer is Latin America", declared the ambassador.
"We are a region that can offer lessons on economics to the world: we reject austerity and spending cuts because they are not only socially unjust, but also economically idiotic. Only by granting workers and retirees greater purchasing power can we strengthen the economy. It is not surprising that the powerful and the corporations criticise us and defame us: they see how Argentina has fought back against the vulture funds. We do not accept their blackmail; we do not pay speculators and usurers. The question we have to ask is whether the international financial system is to be controlled by a group of speculators or by sovereign nations. And Argentine is answering that question."
Before an audience filled with political activists, diplomats, academics and students, the Argentine ambassador spoke about the process of Latin American integration over recent years, praising the strengthening of Mercosur and the creation of UNASUR and CELAC as cornerstones of regional unity, "bodies set up to promote a multi-polar order to secure – in the words of Bolívar – peace to the Universe".
"Latin America is a region led by revolutionary men and women. Cristina (Fernandez), Dilma (Rousseff) and Michelle (Bachelet): the names of the women who seek equality in our continent. In a world at war, Latin America is a region of peace. There is no possibility of us engaging in conflict with any other country, we support non-interventionism in foreign affairs, and we are opposed to war", Castro stated.
As her speech drew to a close, the Argentine diplomat gave special mention to the role played in building the region's unity by Hugo Chávez, "who inspired unimagined levels of unity in South America and the Caribbean and who, alongside Presidents (Brazil) Lula da Silva and (Néstor) Kirchner, firmly rejected the North American Fair Trade Agreement (NAFTA) which would have plunged Latin America into poverty".
Also speaking alongside the Argentine ambassador were renowned intellectuals and journalists like Seumas Milne and Mark Weisbrot, British trade union leaders, MPs from Labour, the SNP and Plaid Cymru, and various international activists. The day was organised by the "Venezuela Solidarity Campaign", a movement of British political activists led by Ken Livingstone as honorary chairman.
Alongside this organisation and others, social movements and trade unions, the Argentine embassy carries works collaboratively in order to broaden their support base for causes like the 'Malvinas Question' and the 'actions of the vulture funds'.