Uruguay's vice-president travels to Brussels to advance Mercosur/EU trade talks
Monday, June 8th 2015 - 09:11 UTC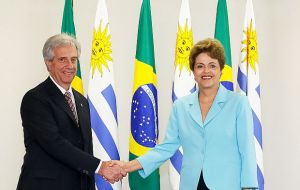 Uruguay's vice-president Raúl Sendic and Foreign minister Rodolfo Nin Novoa will be attending this week's summit of EU and Celac leaders scheduled in Brussels, which will also address in the sidelines, current EU/Mercosur negotiations for a wide ranging trade agreement.
The summit, the second with leaders from the Community of Latin American and Caribbean States, will take place on June 10/11 and will have as the convening pompous motive, "Modeling our common future: working for prosperous, cohesive and sustainable communities for our citizens".
"The Uruguayan government has great interest in advancing in accords between Latin America and the Caribbean with the European Union and in that framework we are targeting Mercosur/EU talks" said Sendic.
With that purpose leaders and representatives from Mercosur will be meeting with EU Commerce Commissioner Cecilia Malmström on Thursday 11 June on the sidelines of the main summit hoping to address and advance the negotiations which have been stalled for some time and both sides are now determined to push forward.
"We expect to advance between the two unions", said Sendic in reference to the two rounds of negotiations that will be taking place in Brussels. He added that Uruguay expects that some time in the next few weeks, both Mercosur and the EU can have their tariff-reduction proposals finalized and ready to exchange "hopefully before the end of the year".
Last week Uruguay's Economy and Finance minister Danilo Astori said that "Uruguay, Paraguay and Brazil are ready to begin negotiations with the EU, but are also willing to respect the timing of Argentina", which has been somehow reluctant to advance in the talks.
"If Argentina decides not to participate in negotiations at this moment, the rest of the block will continue and go ahead", said Astori, in reference to a possible "two speeds" understanding with the EU.
Last May 21 in Brasilia, presidents Dilma Rousseff and Uruguay's Tabare Vazquez agreed that the priority for Mercosur is negotiations with the EU for a encompassing trade and cooperation agreement, and 'greater flexibility' for Mercosur.
This means finding a way to avoid Decision 32/2000 which forces all Mercosur members to advance together as a group in negotiations based on a consensus which limits other options.
Argentina has insisted all the time that negotiations must have the consensus of the group and implemented on a block-to-block negotiation, partly because this is a presidential election year and also because of the unorthodox emphasis of its current economic policy based on enhancing the domestic market and local industry.
However, Argentina's main and decisive ally on this venue was Brazil, which has now changed radically and is anxious to reach trade agreements to boost its depressed economy and falling exports. The position that has long been supported by Uruguay and Paraguay.
The 'two speeds' announcement also caused an incident between Uruguay's foreign minister Nin Novoa and the ambassador before the EU, Walter Cancela, who in public statements said this was not possible since "the EU has a mandate for negotiations block-to-block".
The seriousness of the incident was later downplayed and Cancela will not be sacked as initially informed but will be allowed to complete the remaining few months in his post in Brussels.